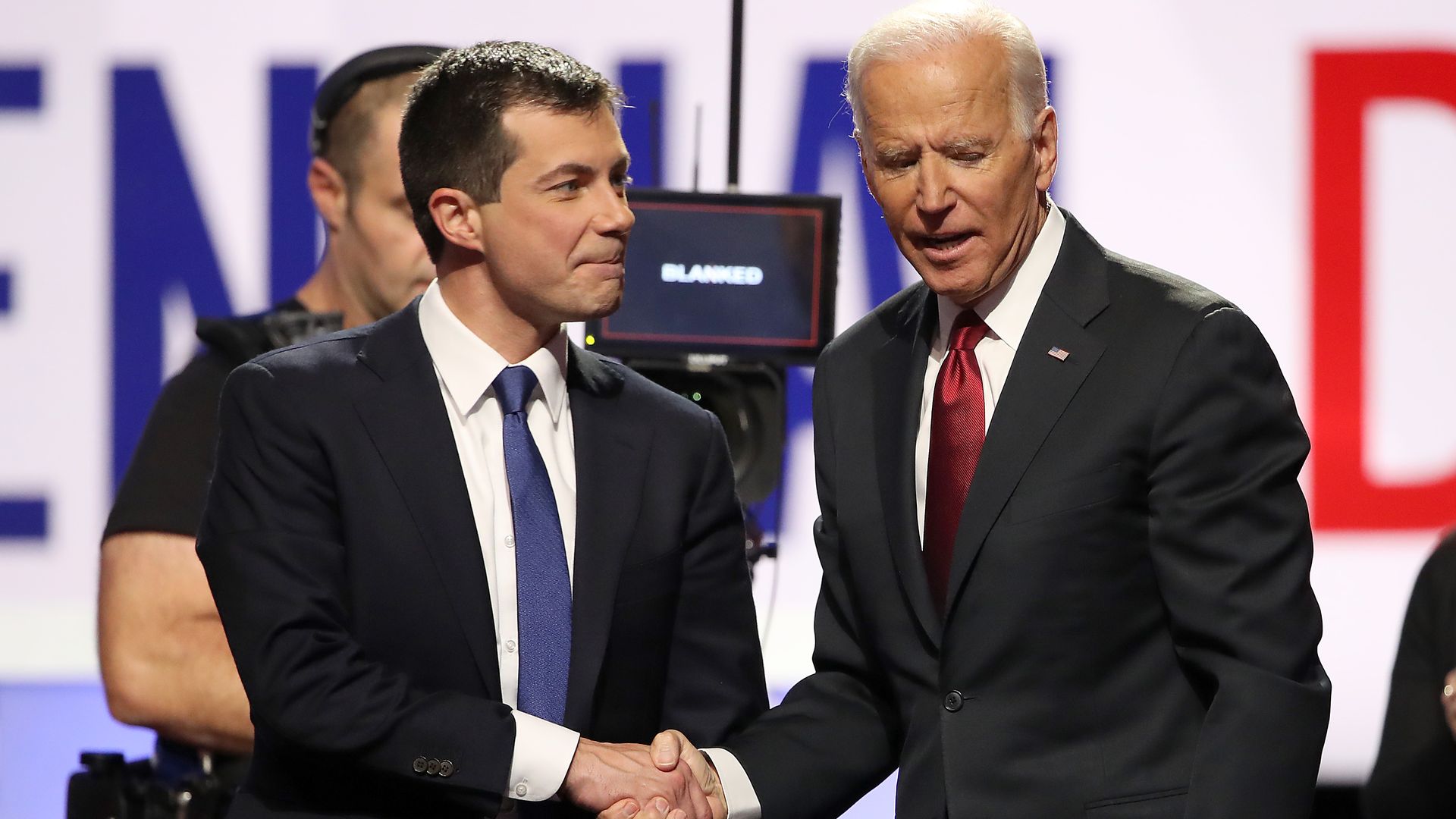 President-elect Joe Biden will nominate Pete Buttigieg to be his secretary of transportation, elevating the onetime rival to a key role in the incoming administration's push to rebuild American infrastructure and the economy, according to three people familiar with the decision.
The former mayor of South Bend, Ind., dropped out of the presidential race and endorsed Biden at a critical moment in March ahead of the Super Tuesday primaries. Shortly afterward, an emotional Biden compared the former intelligence officer for the Navy Reserve, who served a tour in Afghanistan, to his son Beau, who died of brain cancer at age 46.
"It's the highest compliment I can give any man or woman," Biden said then, citing Buttigieg's "moral courage" and "backbone like a ramrod," and predicting a long and bright future. "I promise you, you're going to end up, over your lifetime, seeing a hell of a lot more of Pete than you are of me."
Buttigieg, 38, built his presidential bid on calls to pass the torch to a new generation of leaders, something Biden himself called "absolutely essential." He was the first openly gay major party candidate to win delegates in a bid for the White House, and his campaign was aided by the supportive presence of his husband, Chasten.
If confirmed, the first Washington chapter of Buttigieg's political story will be at a vast agency long viewed as a solid, if unflashy, perch that could provide an opportunity to make a lasting mark.
Biden's promise to pursue vast new investments in transportation and other infrastructure, while moving to sharply cut greenhouse gas emissions, will require a deft touch on questions involving technology, labor and partisanship on Capitol Hill.
Whether Buttigieg, a former Rhodes scholar and McKinsey and Co. consultant with a wonkish eye for policy but no real Washington experience, finds success in that and other challenges could play a significant role in the new president's early successes or disappointments.
The transportation post could also provide Buttigieg with a chance to make inroads with African American voters, a slice of the population that showed little enthusiasm for his presidential bid. He faced criticism over the shooting death of a Black man by a White police officer in South Bend, as well as questions over diversity on the city's police force.
The top transportation job offers a chance to confront the nation's history of constructing highways through disadvantaged neighborhoods, and what advocates say are the lasting social, economic and environmental consequences of doing so.
Click here to read more.
Source: Washington Post