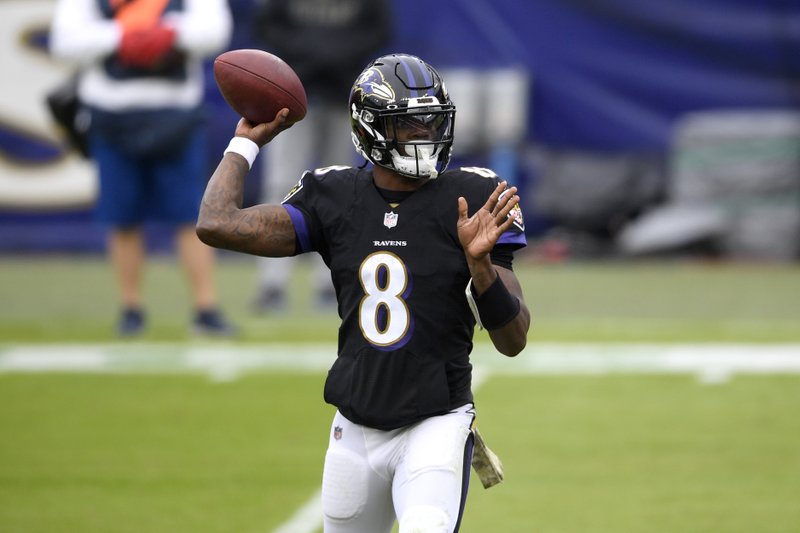 Baltimore Ravens quarterback Lamar Jackson tested positive for COVID-19 on Thursday, sources confirmed to ESPN.
The reigning NFL MVP is the biggest star player to become infected in what has become one of the largest outbreaks in the NFL.
Jackson is among the four latest Ravens players and one staff member to test positive on Thursday, a source told ESPN's Adam Schefter. The Ravens now have had at least a dozen players test positive for the coronavirus this week.
This latest round of positive tests could threaten Sunday's game between the Ravens and the undefeated Pittsburgh Steelers, which already was postponed from Thursday night. Ravens coach John Harbaugh told players that they would not be allowed back to the team facility until Monday at the earliest in the interest of safety, a source said.
Baltimore is down to two healthy quarterbacks: backup Robert Griffin III and practice squad player Tyler Huntley. No. 3 quarterback Trace McSorley is currently on the reserve/COVID-19 list.
With Jackson quarantining for 10 days, Griffin would start the next two games, if Sunday's game in Pittsburgh is played. Baltimore then faces the Dallas Cowboys on Thursday night. Griffin, the No. 2 overall pick in the 2012 draft, has made only one start in the past four seasons.
"Praying for my brother [Jackson] and every player, staff member and their families dealing with COVID-19," Griffin said in a tweet Thursday. "Ensuring the safety of the entire organization is important. Handling this outbreak within the team is bigger than football"
Click here to read more.
SOURCE: ESPN, Jamison Hensley