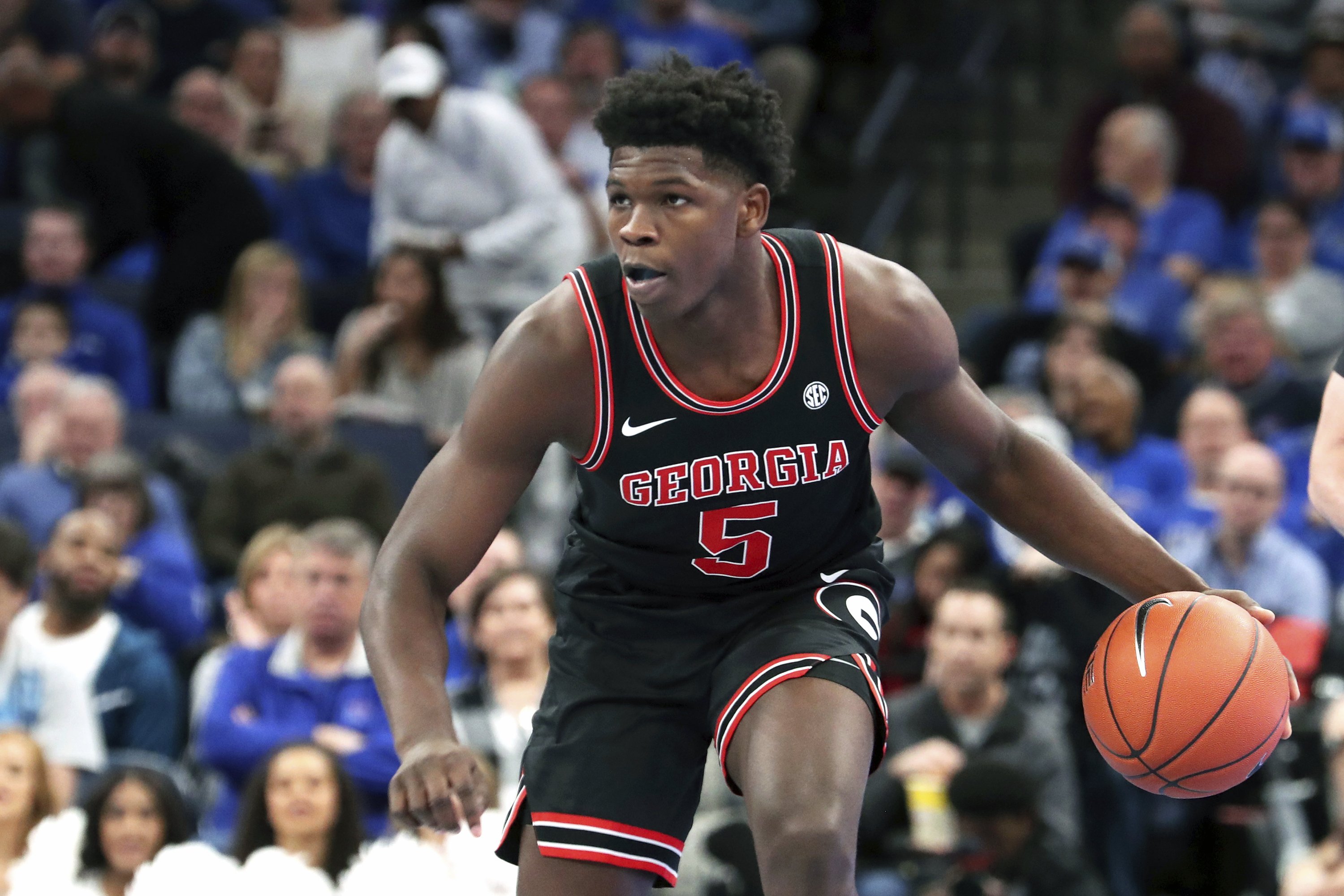 Five months later than originally scheduled, the Minnesota Timberwolves selected Anthony Edwards with the first pick of the 2020 NBA draft on Wednesday night.
The Golden State Warriors took center James Wiseman with the No. 2 pick, and guard LaMelo Ball followed as the third pick to the Charlotte Hornets.
Edwards, a 6-foot-5, 220-pound guard from Atlanta who spent his lone collegiate season at Georgia, joins a young Timberwolves core led by star center Karl-Anthony Towns and point guard D'Angelo Russell. Edwards led all Division I freshmen with 19.1 points per game and was the Southeastern Conference Freshman of the Year.
Edwards joins Markelle Fultz as the only players in the lottery era to go No. 1 overall coming from a program with a record of .500 or worse in his final college season, according to Elias Sports Bureau research. The Bulldogs went 16-16, including 5-13 in the SEC.
"It is an indescribable feeling," Edwards said on ESPN shortly after being selected. "My family is emotional. I feel like when I get off of here, I am going to be emotional. I am just blessed beyond measure to be in this situation."
Edwards, Wiseman and Ball were each, at different times, projected to be the top pick in the draft. Edwards, however, was the best positional fit for Minnesota — Wiseman shares the same position as Towns, and Ball shares the same position as Russell — and had emerged as the likely top pick in the days leading up to Wednesday's draft.
Wiseman, a 7-foot-1 center, played only three games last season for the University of Memphis because of eligibility issues and a 12-game suspension over rules violations. He gives Golden State a dose of physical skill to go alongside Draymond Green in the Warriors' frontcourt and can potentially help shore up the team's defense after the Warriors, following five consecutive trips to the NBA Finals, fell to the bottom of the standings amid injuries to Stephen Curry and Klay Thompson.
Wiseman was emotional after being taken with the second pick. He said he believes he can adapt quickly to his new team's vaunted culture.
"It's great in terms of my concept because I can be able to learn, be able to grow my game, being able to adapt in that type of environment, which I can," Wiseman said. "And just going in there and just learning, just helping grow my game. … I just had to bust out in tears because I've been through a lot of adversity in my life. But I'm ready to go into Golden State with a great mindset, with a different mindset, ready to go in there and just learn as much as possible, grow my game and just adapt, and just work my tail off."
Wiseman said he already has a relationship with Curry and is looking forward to working with the rest of the organization's core.
"I have a great relationship with Steph," Wiseman said. "Obviously, I went to his camp so he taught me a lot. When I was in high school, he taught me a lot about the game of basketball, gave me a lot of information. I actually took a picture with him, so that's my guy."
Ball, younger brother of New Orleans Pelicans guard Lonzo Ball, is a gifted passer who will give the Hornets some desperately needed star power. He has had a winding road to getting to this point, going to play in Lithuania and then Australia before being taken by Charlotte on Wednesday night.
Ball averaged 17.0 points, 7.5 rebounds and 7.0 assists in 12 games for the Illawarra Hawks in Australia's National Basketball League.
LaMelo and Lonzo, who was the No. 2 pick in 2017, are the first pair of brothers in NBA history to be drafted in the top five, per Elias research.
LaMelo said he didn't consider falling to the third pick a letdown.
"I definitely feel great falling to [Charlotte]," Ball said. "But the way I've fallen down, I never looked at it like that because, like I say, whatever happens happens, and I feel like it's God's plan. So wherever he wanted to put me, that's where he put me, and I feel like he's going to let me blossom there."
Click here to read more.
SOURCE: ESPN, Tim Bontemps