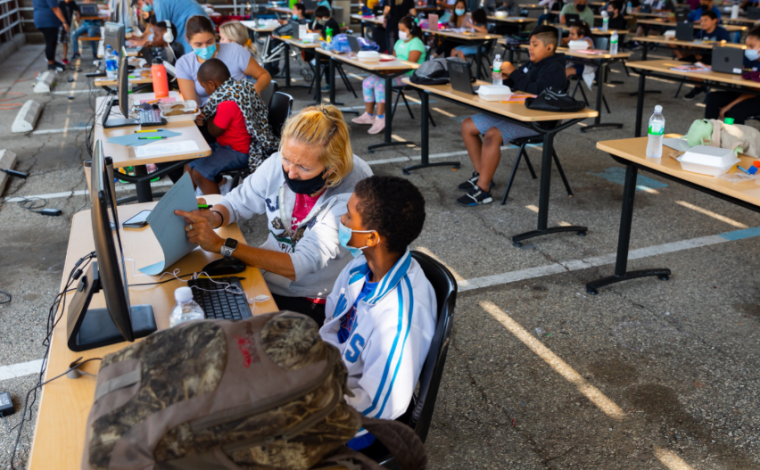 As the pandemic has forced many of America's public schools to begin the school year with remote learning, several churches and faith-based groups nationwide have opened their doors to students who don't have internet access at home or whose parents can't stay home with them.
Among those institutions are 14 Houston-based churches belonging to the Texas Annual Conference of the United Methodist Church that partnered with the Houston Independent School District to serve as distance learning centers.
The distance-learning centers were attended by hundreds of children before the school district's return to in-person learning in late October.
The eighth-largest school district in the United States, with the help of the UMC conference, birthed the "Sanctuaries of Learning" program to aid approximately 500 students in pre-kindergarten through fifth grade. The program helped the students navigate the waters of virtual learning, a new experience for most K-12 students in the U.S.
"They lived in the neighborhood, they registered through the school, they called the school to save a place, … [and] their parents were notified about it," said Rev. Jill Daniel, an elder in the Texas Annual Conference of the United Methodist Church.
Although the program concluded in mid-October when the school district resumed in-person learning, the program's impact can be felt nationwide as some school districts have not yet returned to in-person classes.
In an interview with The Christian Post, Shannon Martin, director of communications for the Texas Annual Conference, explained that their regional church body "birthed this program."
"But then as people started hearing about it … it started catching on across the country. So there are people all over the country doing this," she said. "Other people have adopted the same name, Sanctuaries of Learning. We certainly did not copyright it. We wanted people to use it and certainly utilize the same model of working with school districts. Once there's a good model, we want other churches and other people to be able to follow along with … the same model because it's worked."
Daniel said the conference started receiving calls from all over the U.S., specifically recalling phone calls from New York City, California, Colorado, Oklahoma, the Carolinas and elsewhere in Texas. They asked: "What can we do to make this happen?"
"We probably had … well over 120 or so Zoom meetings with people all over the United States and we walked a little closer with some of them," she explained. "And it's been amazing to just watch God doing this very new thing and blessing it so mightily."
The pastor predicted that the establishment of the Sanctuaries of Learning program would lead to a "rebirth" of neighborhood churches because "during quarantine, we had all this time where … our churches have been that mission depot in the neighborhood, where we've had food distributed and people have done dinners for their neighbors and checked on one another."
While schools in Houston have returned to in-person learning, schools in California's Los Angeles Unified School District are not likely to return to in-person learning before January. This week, the district released data based on 10-week interim assessments showing that poor grades surged in the district's lower-income communities.
In addition to churches, faith-based organizations have also worked to set up distance learning centers.
The faith-based nonprofit Los Angeles Dream Center established the Restart Learning Center, a "safe, socially distanced outdoor learning environment" in the parking lot of its Echo Park campus. The parking lot contains a solar panel shed that shields against heat and precipitation.
Like the Sanctuaries of Learning in Texas, the Restart Learning Center draws in students residing within walking distance of the surrounding neighborhood. Participants include attendees of both public and private schools.
Click here to read more.
SOURCE: Christian Post, Ryan Foley