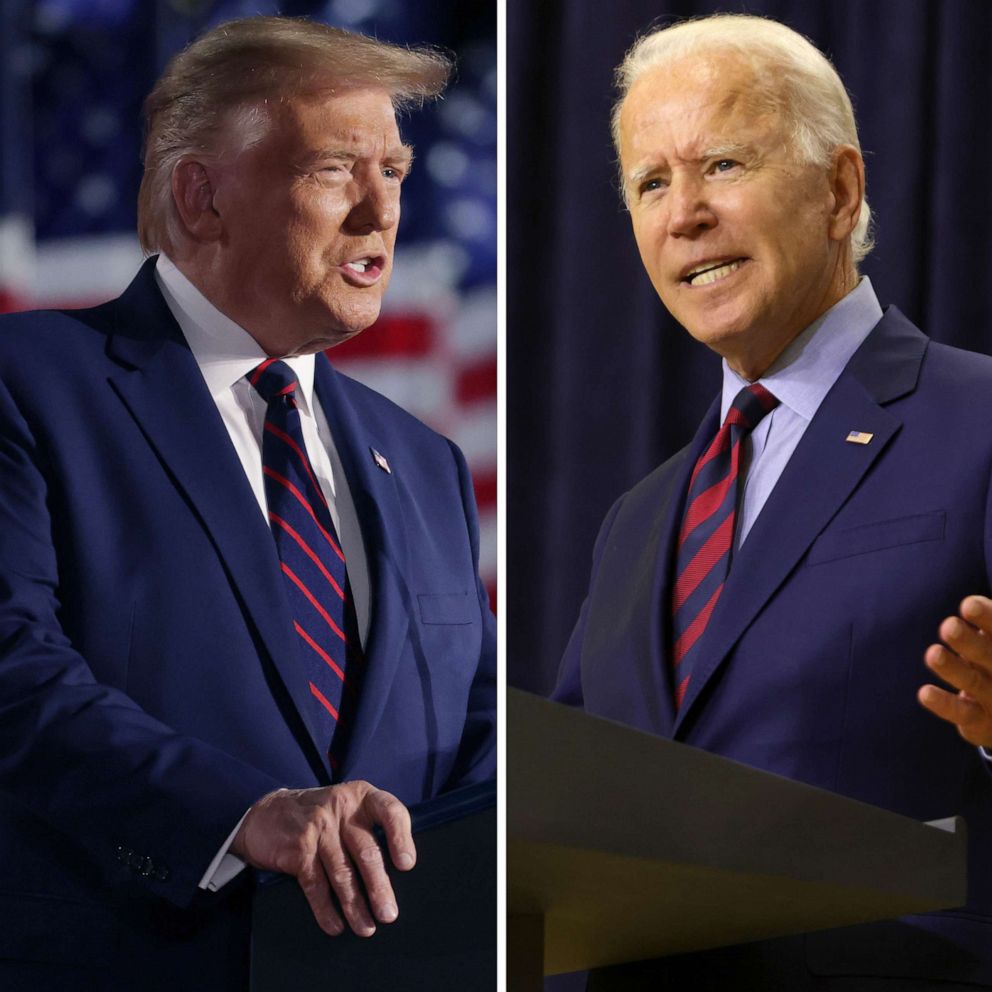 Joe Biden has delayed his primetime address to the nation as he inches towards victory with his lead in Pennsylvania, where he is now ahead by more than 21,000 votes.
The former vice president was expected to deliver a speech to the country on Friday evening, regardless of whether the election has been called in his favor, his campaign announced earlier.
Biden is yet to make any remarks as of 9pm, but he will speak at some point tonight even if the race remains undecided, campaign officials have confirmed, according to the NYT.
Biden is just 17 electoral votes shy of winning the presidency, meaning he only needs to secure Pennsylvania to bring him past the 270 threshold.
Earlier on Friday night, Justice Samuel Alito announced all Pennsylvania counties must segregate ballots that arrived after Election Day, following an appeal lodged by Republicans earlier to exclude those votes from the total count.
Trump's campaign had filed a motion to intervene in a decision by the state's highest court that allowed election officials to count mail-in ballots postmarked by Tuesday's Election Day that are delivered through Friday.
Alito's order, however, comes after PA Secretary of State Kathy Boockvar had already instructed election officials to separate the ballots – limiting Trump's ability to claim the court order as a victory.
But whether or not those ballots are ultimately counted seems unlikely to affect who gets the state's 20 electoral votes now that Biden is leading by more than 21,705 votes.
The former vice president continues to inch towards victory with a 0.3% lead over Trump in the state.
If he secures Pennsylvania, he'll automatically win the presidency. The Associated Press waits for a candidate to have a 0.5% lead to call a race.
As of early Friday evening, there were approximately 102,000 mail ballots still to be counted in Pennsylvania, including 36,000 in Allegheny County, the second largest county in the state.
Additionally, there are potentially tens of thousands of provisional ballots that remain to be tabulated, though an exact number remained unclear. Those ballots will be counted after officials verify their eligibility to be included.
Allegheny, which includes Democratic strongholds of Philadelphia and Pittsburgh, could be what brings Biden to 270 electoral votes.
He currently has 253, compared to Trump's 213, meaning he can win the presidency in one of two ways.
If he wins Pennsylvania, he gains 20 votes and no longer needs either Arizona or Nevada. But if he wins Arizona – which has 11 electoral college votes – and Nevada – which has 6 – he no longer needs Pennsylvania.
Philadelphia Mayor Jim Kenney earlier on Friday said it was time for Trump to 'put his big boy pants on' and concede.
One reason for the tightening race is that under state law, elections officials are not allowed to process mail-in ballots until Election Day.
It's a form of voting that has skewed heavily in Biden's favor after Trump spent months claiming — without proof — that voting by mail would lead to widespread voter fraud.
There's a possibility the race won't be decided for days and according to CNN, there are about 102,000 ballots left to count. If there is less than a half percentage point difference between Biden and Trump's vote total, state law dictates that a recount must be held.
Democrats had long considered Pennsylvania a part of their 'blue wall' — a trifecta that also includes Wisconsin and Michigan — that for years had served as a bulwark in presidential elections. In 2016, Trump won each by less than a percentage point.
Biden, who was born in Scranton, claims favorite-son status in the state and has long played up the idea that he was Pennsylvania's 'third senator' during his decades representing neighboring Delaware. He's also campaigned extensively in the state from his home in Delaware.
If Biden wins Pennsylvania, he wins the election. Currently, he has 264 electoral college votes – including Arizona despite that coming slightly back into play. Even without Arizona, if he won Pennsylvania, he would take the White House.
Trump cannot win on Pennsylvania alone; with 214 electoral college votes, he'd still need to pick up either Georgia, North Carolina, Arizona or Nevada – the four other states where a result is yet to be officially confirmed.
Earlier on Thursday, Kathy Boockvar told CNN's Jake Tapper: 'I think there's about 550,000 some odd — you know, plus or minus — ballots that are still in the process of being counted today.
'Some of those may have already been counted but are not yet uploaded. But yeah, they're coming in. We're getting 10,000 here, 20,000 here, counties are furiously at work.
Click here to read more.
Source: Daily Mail