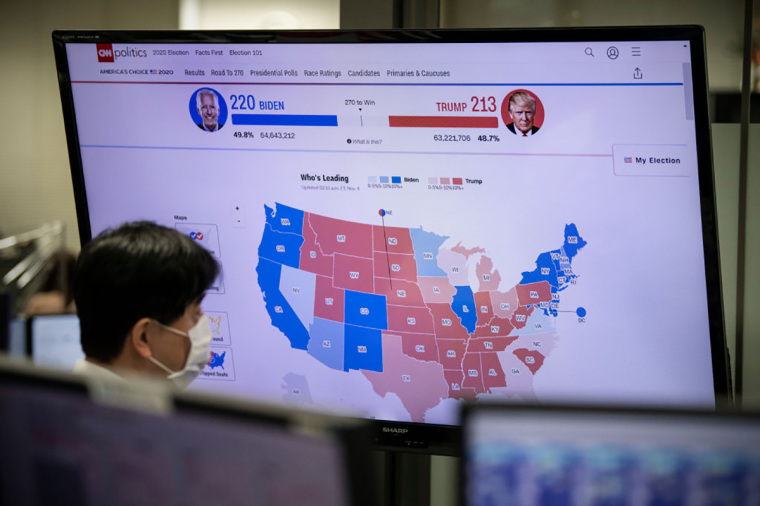 With more than 100 million votes counted, the 2020 presidential election remains too close to call as of early Wednesday morning, several hours after the first polls closed.
Due to the widespread use of mail-in ballots as a result of the coronavirus pandemic, it could take days for a winner to be declared. Several swing states, including Iowa, Minnesota, Nevada, North Carolina, Ohio, Pennsylvania and Texas, will be accepting and counting mail-in ballots days after the election as long as they are postmarked by Election Day.
For these reasons, winners have yet to be projected in several swing states. With the outcome uncertain in many of the states that will decide the election, neither candidate has accumulated the 270 electoral votes needed to clinch the presidency.
According to Decision Desk HQ, President Donald Trump has accumulated 213 electoral votes, while his Democrat challenger, former Vice President Joe Biden, has accumulated 238 electoral votes. In addition to winning all of the states that he won by double digits in 2016, Trump won the states of Florida, Iowa, Ohio and Texas, which boast a combined 85 electoral votes.
With more than 99% of precincts reporting, Trump won Florida by 3.4 percentage points, an improvement from his showing in 2016, when he won by 1.2 percentage points. The president carried Iowa by 8.2 percentage points, a slight decrease from his 9.5% margin there in 2016.
In Ohio, with nearly all of the votes counted, Trump won by a margin of 8.2 percentage points, roughly matching his 2016 showing in the state. Trump won Texas by a margin of roughly 6%, a decrease from his 9% win there in 2016.
Biden won all of the states that Hillary Clinton won by double digits in 2016, in addition to the swing states of New Hampshire, Maine and Minnesota. While Clinton won New Hampshire by less than 1% in 2016, Biden had a lead of 7.5% there as of early Wednesday morning.
Biden also had a lead of roughly 7% in Minnesota as of early Wednesday morning, a state that Clinton won by 1.5% in 2016 and that the Trump campaign had hoped to flip into the Republican column in 2020. Biden also won the states of Colorado, New Mexico and Virginia, which Clinton won by less than 10% but none of those states were widely considered swing states this election cycle.
In North Carolina, more than 99% of the vote had been counted as of early Wednesday morning. Trump was leading Biden in the early hours by a margin of 1.4%. The president was also leading by 2.2% in Georgia. Should Trump win both of those states, he would pick up 31 electoral votes.
The results in Arizona became a source of contention after Fox News called the state for Biden, who had a lead of approximately 5%. The Trump campaign criticized the network's decision and Decision Desk HQ had yet to put Arizona's 11 electoral votes in Biden's column.
Click here to read more.
Source: Christian Post