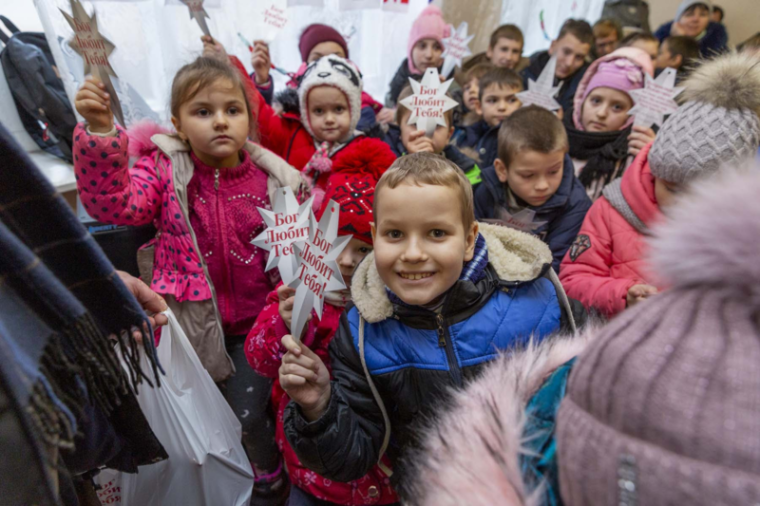 For children living in impoverished regions across Russia and the former Soviet Union, Christmas is anything but "the most wonderful time of the year."
The COVID-19 pandemic and the resulting economic collapse forced many state-run orphanages and children's homes across Russia and neighboring countries to close, leaving thousands of children vulnerable to neglect, exploitation, and domestic violence.
"The need in these areas is greater than ever," Michael Johnson, president of the Slavic Gospel Association, told The Christian Post. "Not just physical, but spiritual, as well. There are children and teenagers who have no knowledge of God. Christmas is the most significant opportunity for evangelism in these countries."
To help meet this need, the Illinois-based SGA is partnering with local churches in Russia, Ukraine, Belarus, and the former Soviet countries of Central Asia for Immanuel's Child, an annual Christmas outreach event bringing hope to underprivileged children and their families.
Launched by SGA in 2002, the Immanuel's Child initiative last year reached 34,000 children with the hope of the Gospel. This year, in partnership with churches and individuals in the U.S., local Russian-speaking Christians hope to distribute Christmas gifts, children's Bibles, and personalized ornaments to a staggering 50,000 children.
"Orthodox churches in Russia celebrate Christmas from January 7 until January 11," Johnson explained. "This gives us a great opportunity to bring unreached families into churches so that they can hear the proclamation of the Gospel. It really is one of the most effective tools because we support an event that's already taking place, but the fruit that we see is absolutely phenomenal."
Though Immanuel's Child events are typically held in large venues, local evangelical churches will this year go door-to-door passing out gifts and Bible tracts due to pandemic restrictions on gatherings.
According to Johnson, children are "most excited" by the Star of Bethlehem ornament included in their Christmas packet. Each ornament is printed with 'God loves you' in Russian and signed by a supporter in the U.S. who has committed to pray for a child. Signing and sending an Immanuel's Child paper star of Bethlehem costs $25.
"The star is typically the child's prized possession; they will keep this for many, many years because it means that a family overseas cares enough about them to provide a gift and a Bible and pray for them," he said.
Vladimir Miskevich, a pastor who has planted 18 churches across Russia and now serves as the chief administrator of the Russian Union of Evangelical Christians-Baptists, told CP that he's personally witnessed the life-changing impact Immanuel's Child has had on numerous families.
Click here to read more.
SOURCE: Christian Post, Leah MarieAnn Klett