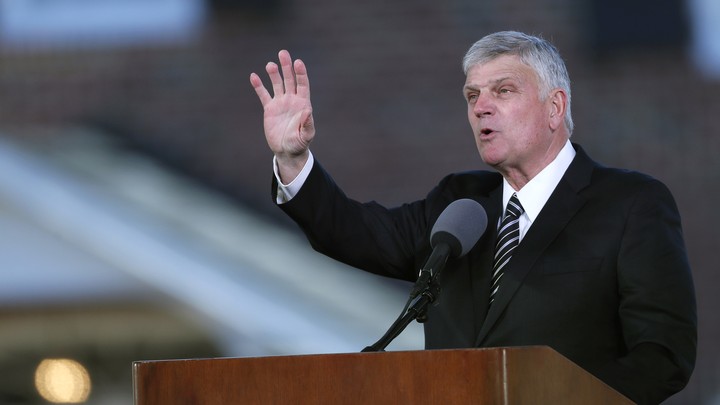 Evangelist Franklin Graham has warned that "there will be an attack against Christian businesses" should Democratic presidential nominee Joe Biden win the election.
Appearing on Newsmax's "America Right Now" on Saturday, Graham, the president of Samaritan's Purse and the Billy Graham Evangelistic Association, expressed concern about the impact that a Biden victory and a Democratic Senate would have on people of faith and religious institutions. Before asking Graham to address those implications, host Tom Basile described the Obama administration as "perhaps the most hostile to religious freedom and the rights of conscience that we've seen in this country."
"I'm afraid there will be an attack against Christian businesses like we saw during the Obama administration. Florists who refused to do flowers for a gay wedding, they will put out of business. Someone who didn't want to make a cake for a gay wedding, put out of business," Graham warned. During the Obama administration, many Christian-owned businesses faced lawsuits over their refusal to participate in events that violated their religious beliefs.
Barronnelle Stutzman, a Christian florist living in Washington state, has faced thousands of dollars in fines for refusing to provide flowers for a same-sex wedding, citing her religious beliefs. Jack Phillips, a Christian Colorado baker, faced similar lawsuits for refusing to bake a cake for a same-sex wedding in 2012 when same-sex marriage wasn't even legal in that state.
While the U.S. Supreme Court ruled 7-2 that the Colorado Civil Rights Commission demonstrated hostility to Phillips' religious beliefs and ordered the Washington state Supreme Court to rehear Stutzman's case in light of that decision, both Phillips and Stutzman continue to face legal challenges.
Phillips has found himself back in court for refusing to bake a cake celebrating a gender transition, while the Washington Supreme Court concluded that it did not demonstrate hostility toward Stutzman's religious beliefs, thereby upholding their previous decision forcing her to pay the fines.
In addition to suggesting that Christian business owners will face heightened attacks in a Biden administration, Graham warned that "the left" will "want to try to come after churches and tax churches and tax tax-exempt organizations that are doing humanitarian work, social work throughout the country."
Click here to read more.
SOURCE: Christian Post, Ryan Foley