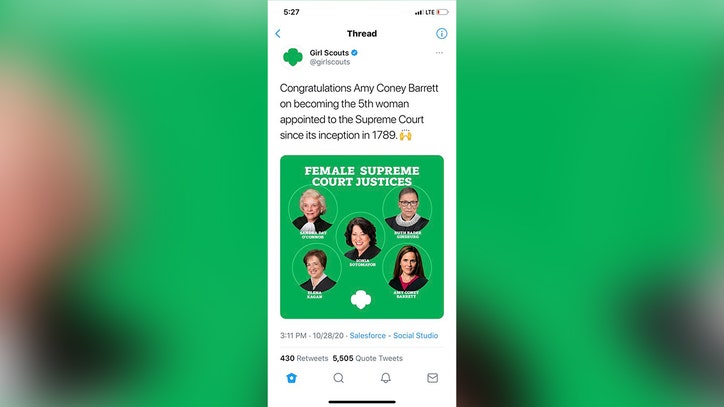 Following a torrent of social media outrage from the left, the Girl Scouts deleted a tweet celebrating newly confirmed U.S. Supreme Court Justice Amy Coney Barrett.
The Girl Scouts sent out a tweet Wednesday congratulating Barrett on "becoming the 5th woman appointed to the Supreme Court since its inception in 1789." The tweet featured a picture of Barrett alongside the other women who've served on the Supreme Court: Sandra Day O'Connor, Ruth Bader Ginsburg, Sonia Sotomayor and Elena Kagan.
Barrett was confirmed to the Supreme Court by a 52-48 vote in the Senate Monday. Democrats steadfastly opposed Barrett's confirmation, citing the fact that her nomination was made so close to the 2020 presidential election and objecting to Barrett, an originalist, filling a seat previously held by Ginsburg, the late liberal icon.
One of the critics of the Girl Scouts' post was Rep. Ayanna Pressley, D-Mass., a member of the group of progressive House Democrats known as "the Squad."
"What kind of patch does one earn for uplifting a woman who is the antithesis of justice?" she asked.
In the wake of criticism from Pressley and others, the Girl Scouts expressed regret that their post celebrating the female Supreme Court justices, including Barrett, was "quickly viewed as a political and partisan statement" and announced that "we have removed the post."