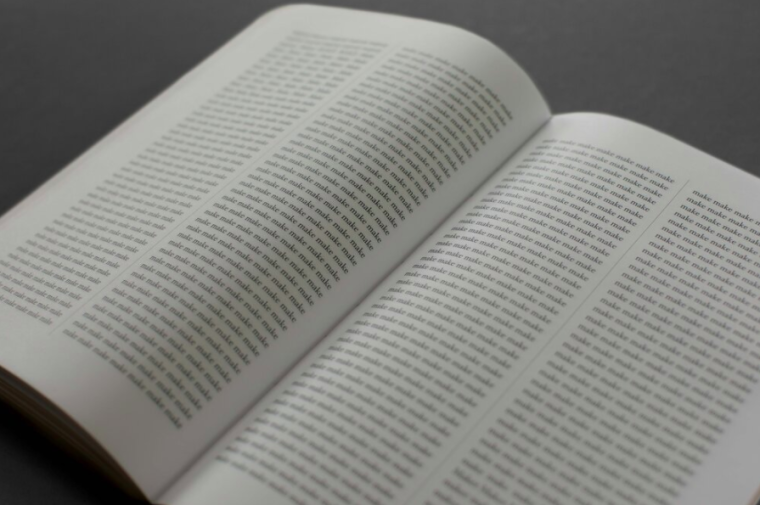 A group of creatives reorganized the entire King James Bible in alphabetical order for a new translation they hope will help readers uncover "new and interesting interpretations of the written word." 
A new project called "Bible The" rewrites both the Old and New Testaments alphabetically as part of a larger project reorganizing "seminal books that have had a material impact on humanity" from A to Z.
"Using a custom made piece of software, we take the entire text of a book, and reorganize it alphabetically," says Sideline Collective, the international team of designers, writers, and programmers behind the project.
"That's right. Each book completely reorganized from A-Z. This distills each text down to its lowest common denominator. It highlights the importance people tend to place on the order of said words – and their meaning – and allows for new and interesting interpretations of the written word, in much the same way as an abstract painting might."
"The result is a reductionist interpretation of the text that reveals some fascinating observations," it says, adding that data shows the Bible "skews towards a positive bias."
For example, "good" is used 720 times, "bad" only 18. "Love" is used 308 times and "hate" 87 times. "Happy" is used 28 times, while "sad" is only used 11 times, and "life" is used 451 times, contrasting the 371 instances of "death." Additionally, there are 94 "angels" to 55 "devils," 96 "saints" to 48 "sinners," and 302 "blessed" to just three "damned."
Meanwhile, there are 269 "enemies" to 49 "friends."
Click here to read more.
SOURCE: Christian Post, Leah MarieAnn Klett