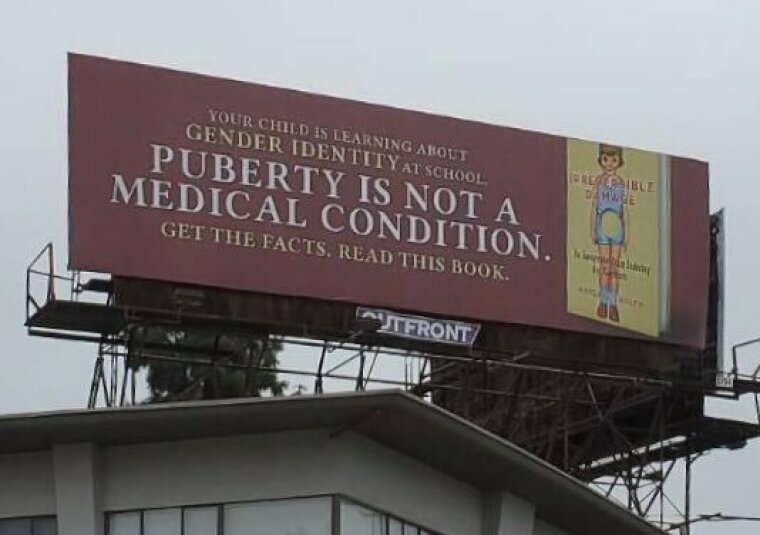 A billboard aiming to force discussion on the gender-transitioning of minors has been erected in Los Angeles and it asserts that "puberty is not a medical condition."
The billboard, which was unveiled last week and will remain up for one month, reads: "Your child is learning about gender identity in school. Puberty is not a medical condition. Get the facts. Read this book."
Positioned beside the text is the cover of by Abigail Shrier. Shrier's book is a work of investigative journalism that explores the rapidly increasing number of girls and young women swept up into a peer contagion, many of whom have been put on a pathway of experimental medicalization that yields permanent, often devastating effects on their mental and physical health.
The billboard is located near La Cienega and Rosewood in Los Angeles, not far from West Hollywood.
The Los Angeles-area Jewish father who put up the money for the billboard has a high school-age daughter currently caught up in the transgender ideology and spoke to The Christian Post by phone Monday on condition of anonymity. Should his identity be revealed, he risks losing his job. His daughter has not gone on puberty blockers or cross-sex hormones but wishes to medically transition.
His daughter became mired in gender identity confusion through a combination of a trans-identifying friend, extended amounts of time on the internet, and a trans-affirming school curriculum, he said.
"I am determined to do anything in my power to a) stop this from happening to her and b) make the public aware of what is going on. And it's very challenging when the media and the schools and the doctors are all thinking one way and the truth is being censored," the father explained.
He was inspired to do this after seeing a recent campaign where billboards featured messages of appreciation for Harry Potter series author J.K. Rowling, who penned an essay this summer expressing concern about radical transgender activism and solidarity with feminists campaigning for sex-based rights. Rowling has since been decried as bigoted by much of the mass media and many celebrities for her stance.
Shrier's book "hit the nail on the head," the father told CP.
"I wanted to choose a place in the middle of the city. There are other strategic places to put these billboards, certainly near two hospitals that are very complicit in this craze, like Children's Hospital-LA and Kaiser. But I chose the middle of the city because it had the most visibility of what was available."
Click here to read more.
SOURCE: Christian Post, Brandon Showalter