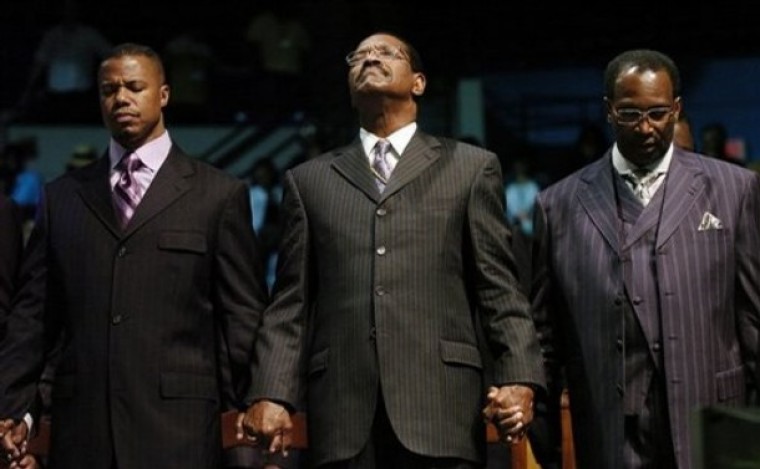 The Church of God in Christ, a predominantly African American body of 6.5 million members, is holding its first-ever national ballot drive. Another 10 or so smaller Holiness denominations, including the African Methodist Episcopal Church with 2.5 million adherents, are joining COGIC in urging people to go to the polls.
Holiness churches tend to believe in a second work of the Holy Spirit in the Christian life that brings noticeable change morally, such as stopping smoking, curtailing pornography and ending cursing. Going back to those ways could signal the person is no longer saved. Pentecostal Holiness denominations such as COGIC think this second blessing also can lead to spiritual gifts such as healing or tongues.
Stringent Holiness groups historically have refrained from entering or emphasizing politics, which they see as worldly in nature. Most civically active black pastors are Baptist, including the Revs. Martin Luther King Jr., Jesse Jackson, Al Sharpton and the late Democratic Congressman John Lewis.
COGIC Presiding Bishop Charles E. Blake has initiated "Press to the Polls," part of a campaign to register 250,000 COGIC faithful and get them to vote in November.
COVID-19 caused the denomination to cancel its annual Holy Convocation, which nightly features a different section of the body's work. The format has moved to social media this week, as those groups discuss the top issues in the campaign and the importance of casting ballots. The Evangelism Department hosted Monday night's streaming, for example.
"We could have had one clarion call by presiding bishop, but we thought utilizing those leaders and their influence over their constituents would be more effective," Bishop Talbert Swan, senior adviser to Blake, told The Christian Post.
Blake was one of 26 Pentecostal/charismatic African-American church leaders to sign "An Open Letter to Hillary Clinton Regarding Religious Freedom for Black America," that was released within 10 days of the 2016 presidential election.
Click here to read more.
SOURCE: Christian Post, Kyle Huckins