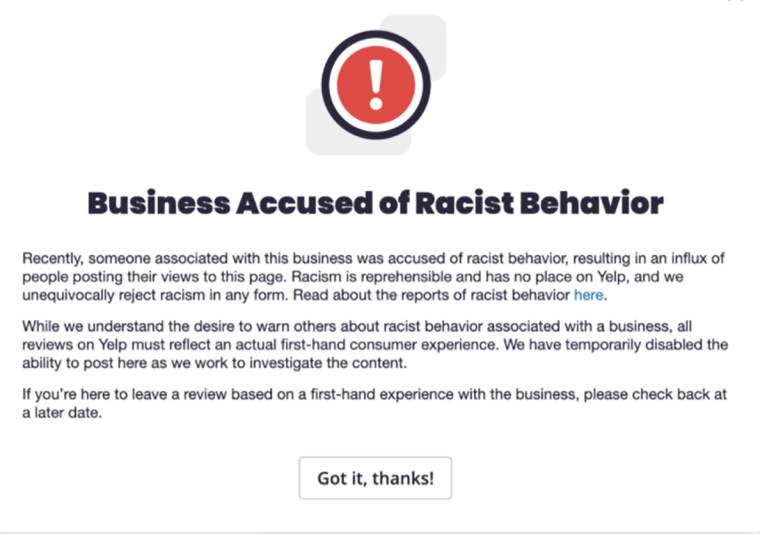 Yelp's new racism alert is raising concerns among many who see it as a threat to business owners who will be living in fear of losing their livelihoods due to false accusations. 
In an announcement on Thursday, Yelp said it will begin alerting users when customers accuse a business or an employee of racism by sending out a "Business Accused of Racist Behavior Alert." The new protocol went into effect last week.
"Now business owners everywhere have to live in fear of a false accusation of racism, accepted and magnified on Yelp, that could destroy their livelihoods," said Christian author Rod Dreher.
The new feature also received strong condemnation from Spectator USA's New York Editor Melissa Chen who described it as coming out of the Communist Party's playbook.
"Already, in response to Yelp's statement, an Antifa group has put out a call to its followers to begin compiling a list of businesses guilty of showing sympathy for the police or that stand against the Black Lives Matter movement," said Chen, who describes herself as a religious liberty advocate and atheist.
If someone accuses a business of racism, Yelp's website will show consumers a "Public Attention Alert" to notify them that someone associated with the business did or said something racist.
The Public Attention Alert will appear automatically after someone accuses a business. Yelp said the company would review all Public Attention Alerts in an attempt to ensure the complaints were "first-hand consumer" accounts.
Click here to read more.
SOURCE: Christian Post, Jackson Elliott