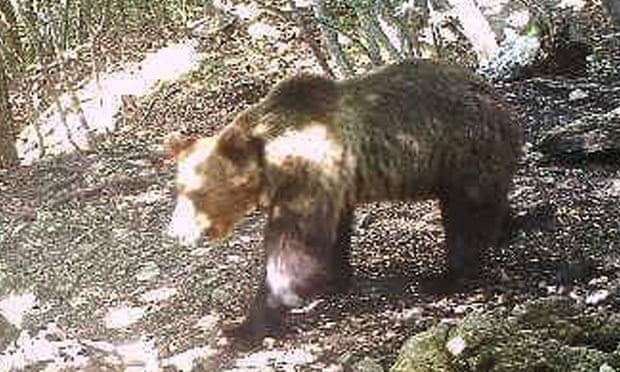 A brown bear nicknamed Papillon for its propensity for escaping from its enclosure has been captured by rangers in the Italian province of Trento after 42 days of freedom.
Codenamed M49, the 149kg (23st) bear fled from the Casteller centre on 27 July after climbing over its enclosure, which had been reinforced following previous escapes.
M49 was the most wanted bear in Europe and considered an "escape genius". Italian authorities compared the bear to Papillon, the eponymous character from Henri Charrière's memoir about escaping from a French penal colony, which was released as a film in 1973.
An order for the bear's capture was issued in June 2019 by the president of Trento province, Maurizio Fugatti, who declared that the animal was a risk to humans after it was seen close to inhabited areas. The first escape took place on 15 July 2019, when M49 managed to climb over three electric fences and a four-metre-high barrier at a wildlife enclosure in the northern Italian province of Trento before disappearing into the woods.
On that occasion, the authorities granted permission to rangers to shoot the bear if it came close to inhabited areas. "The fact that the bear managed to climb over an electric fence with seven wires at 7,000 volts demonstrates that this specimen is dangerous and a public safety problem," Fugatti stated in 2019.
The animal, which has been implicated in the killing of livestock, was captured on 29 April, but remained in captivity for only two months before escaping again. After its recapture, its enclosure was reinforced, and the bear was fitted with a radio collar to monitor its movements in case of another escape. It was all in vain, as Papillon, who has become a symbol of freedom and a champion of the force of nature over humans, managed to escape again on 27 July and remove its collar, making its capture even more difficult.
Click here to read more.
Source: The Guardian