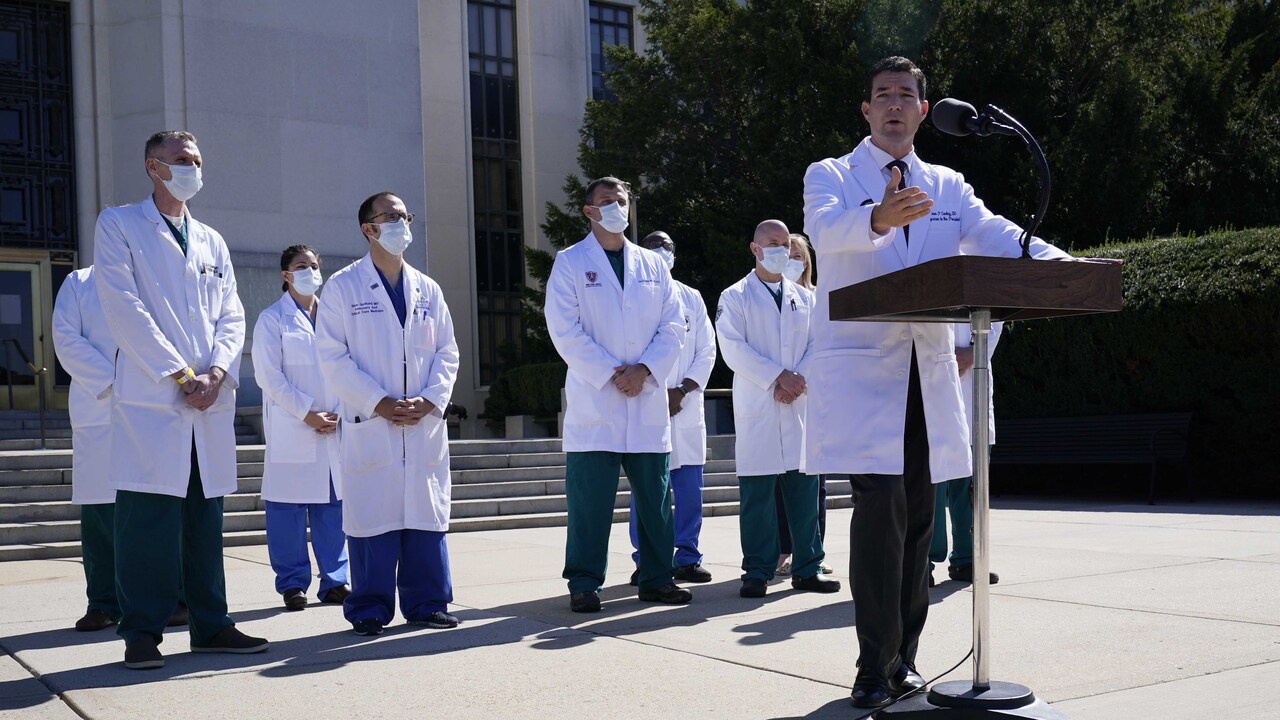 A spate of White House statements about President Donald Trump's health spurred a wave of confusion and criticism about his path ahead, when he was first diagnosed and the true severity of his symptoms.
The baffling back-and-forth began Saturday morning when Trump's physician, Dr. Sean Conley, briefed the press outside Walter Reed National Military Medical Center, where the 74-year-old president has been since Friday night. Conley proclaimed Trump was "doing very well," that his fever had subsided, that his symptoms were improving and that he wasn't receiving supplemental oxygen.
But only minutes after Conley left the microphone, the White House press pool reporter conveyed a statement from "a source familiar with the president's health" that appeared to directly contradict the rosy portrait. "The president's vitals over the last 24 hours were very concerning and the next 48 hours will be critical in terms of his care," the statement said. "We're still not on a clear path to a full recovery." The remark was later revealed to have come from White House chief of staff Mark Meadows, who was caught on camera after the briefing asking to speak with a handful of reporters away from the cameras.
A White House official later added that Trump's vitals had become concerning Friday morning, hours before he was moved to the hospital. Meanwhile, numerous indications emerged that Trump had received oxygen at the White House during that time period — a step frequently needed for patients with serious coronavirus cases. The revelations swiftly cast a harsh spotlight on Conley's carefully phrased denials about Trump needing oxygen assistance.
Conley and Trump's medical team also sent shockwaves through the White House and political landscape with their timeline of Trump's first positive coronavirus test. During the briefing, Conley said it had been 72 hours since Trump was diagnosed with Covid-19, suggesting Trump knew about his status on Wednesday, well before he revealed it overnight Thursday into Friday. That would mean Trump had gone on with his normal schedule, traveling and working in close proximity to aides and staffers, for well over a full day.
Yet again, though, the White House scrambled minutes after the briefing to clarify the timeline from the medical team. Another White House aide said the doctor had meant to say "day 3" instead of "72 hours," since Trump had been diagnosed Thursday night. Conley made the clarification official a few hours later, releasing what amounted to the fourth statement of the day from the White House.
Still, questions lingered about Conley's wording that Trump's medical team had "repeated testing" on "Thursday afternoon," perhaps indicating an earlier initial test before firm confirmation that evening.
It was a head-spinning sequence reflective of a White House — and president — not always known for transparency on health matters. As a candidate, Trump infamously had his doctor declare he would be the "healthiest individual ever elected to the presidency." And as president, Trump's former physician triggered eyerolls when he claimed the president could have lived to "200 years old" with a better diet. The White House has also given head-scratching explanations for an unusual trip to Walter Reed last year.
"The world has to know whether the president of the United States is in good health," said Scott Jennings, who worked for President George W. Bush and is close to the Trump White House. "You cannot have inconsistent reports about the president's health."
"I am stunned that the White House put the president's doctor out there and then issued a contradictory statement," he added. "You can't do that. This just invites questions about what's going on there."
Since the coronavirus hit the U.S., the White House has similarly been coy at times about staffers testing positive, with some of the more notable infections only being confirmed after leaks to the press.
Trump's case has been no different. One former senior administration official said only a few people, like the president's family, actually know the full truth about Trump's condition. As a result, conflicting rumors about Trump's health have been flying around the presidential orbit.
Saturday's roundabout information release left some in the White House bewildered, capping off days of minimal communication between White House leaders and their staff.
One White House official said most officials were receiving the same updates as the press — no more, no less. Another White House aide complained about being perpetually in the dark about not just the president's health, but about coronavirus infections among the staff.
"I might as well be a member of the public," the aide said, saying officials felt nervous and upset about the lack of information.
Still, Saturday's briefing marked the most thorough update on Trump's health since the diagnosis was revealed early Friday.
Conley said he was "extremely happy with the progress the president has made," but warned an "inflammatory phase" that sets in seven to 10 days after the virus takes root will be critical to determining how Trump's infection unfolds.
Click here to read more.
Source: Politico