A majority of American teens still follow their parents' lead when it comes to religion. The trend holds whether families are religious or not—but it's especially good news for evangelical Protestants, who care the most about their children sharing their beliefs.
Evangelical teens, like their parents, stand out as the most confident and active in their faith when compared to their peers, according to a new Pew Research Center report on the religious practices of 13-to-17-year-olds.
The religious makeup of today's teens mostly resembles the population overall. About a third are "nones" (identifying as nothing in particular, atheist, or agnostic), the largest category. After that, about a quarter identify as Catholic and 21 percent as evangelical.
Even as teens, over half of evangelicals surveyed say they attend church at least weekly (64%), pray at least daily (51%), and belong to a youth group (64%), compared to a minority of teen respondents from other traditions. (It's not just parental pressure. In the survey, two-thirds of evangelical teens say they attend church because they want to go, not to appease Mom and Dad.)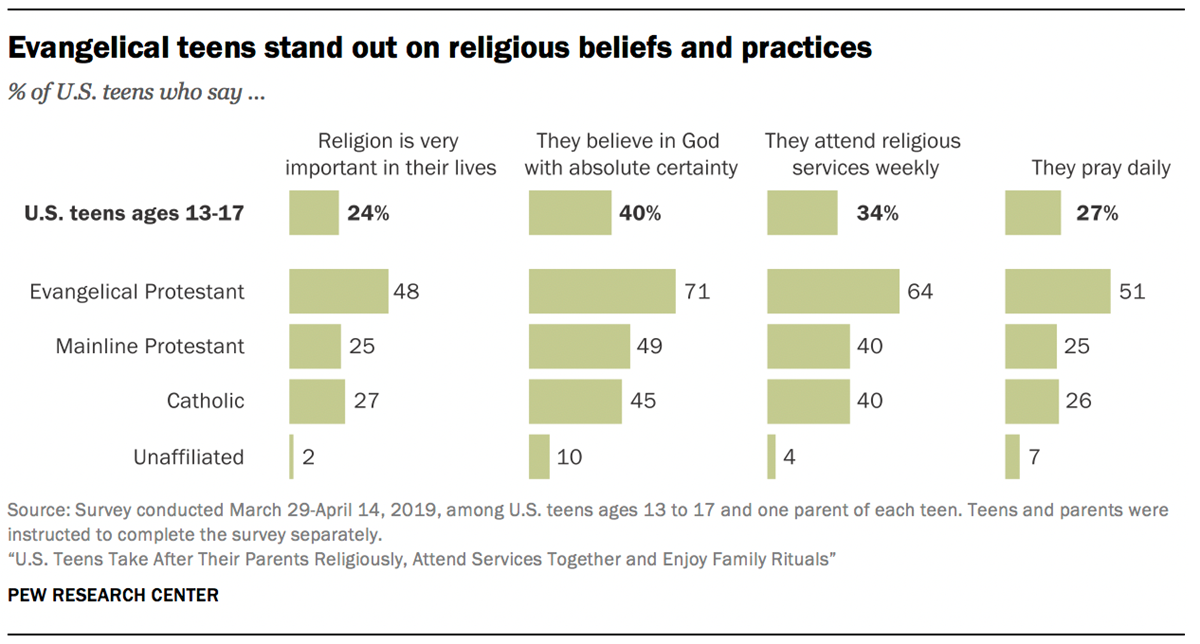 Family plays a big part in young evangelicals' devotional lives. The vast majority say they enjoy religious activities with their families (88%), with 55 percent reading the Bible together, 80 percent saying grace at family meals, and 88 percent talking about religion, Pew found.
These practices correspond with a greater assurance in their religious beliefs. While nearly all teens who belong to a Christian tradition said they believe in God, 71 percent of evangelicals said they are "absolutely certain" in their belief, compared to just under of half of mainline (49%) and Catholic teens (45%). Evangelicals were also the only group among teens to agree that there is only one true religion.
But not all families fall on the same spiritual page once kids hit the teen years. Twelve percent of teens with evangelical parents don't affiliate with a religion. Overall, about half of today's youth say at least some of their beliefs differ from their parents, even if they still identify with the same tradition. The most common way teens see their convictions contrasting with Mom and Dad's has to do with level of certainty: 14 percent say that they have more questions or are more unsure.
According to Pew, two-thirds of teens who don't have "all the same" beliefs as their parents say their family knows about the differences, while a third say they don't. Teens forming their own religious views and approaches as they grow up can be confusing for others under the same roof. Pew found that parents who misjudged their kids' convictions were more likely to overestimate how important their faith was to them.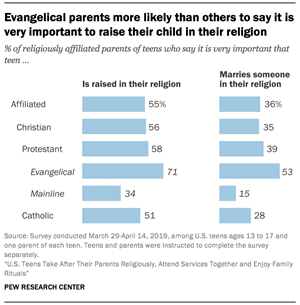 It can also be a sensitive topic for parents to broach. About seven-in-ten evangelical parents consider it "very important" to raise their children in their faith. They make it more of a priority than any other major tradition—half as many mainline Protestants say the same. But as much as they model their faith, surround them with Christian community, and pray for their kids' salvation, evangelical parents also know their sons and daughters—God-willing, Spirit-empowered—will eventually have to come to understand the gospel for themselves.
CT asked parents of teenagers how important it is for their teenagers' beliefs to align with theirs and how they approach the children's faith at this stage. Here are their responses.
Click here to read more.
Source: Christianity Today