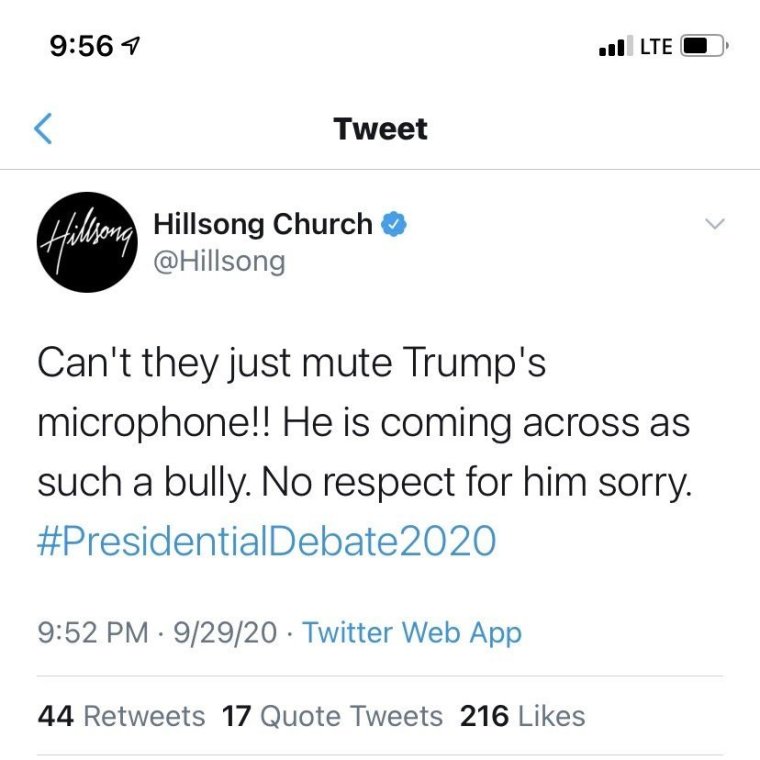 Hillsong Church apologized late Tuesday night for a post on its Twitter account that called President Donald Trump a "bully" and suggested his microphone be cut during the first presidential debate.
"Can't they just mute Trump's microphone!! He's coming across as such a bully. No respect for him sorry. #PresidentialDebate2020," said the since deleted tweet that criticized the president nearly an hour into Tuesday's debate with Democratic presidential nominee Joe Biden.
Despite the deletion of the tweet, a screenshot of the post quickly became viral on social media and drew concern from people like Greg Locke, popular internet personality and leader of the Global Vision Bible Church in Tennessee.
"Dear @Hillsong, that was deleted very quickly. Careful. I sat beside @brianhoustontv at the RNC acceptance speech at the White House. Your boss secretly likes Trump," Locke cautioned on Twitter at about 11:00 p.m., referring to Hillsong founder Brian Houston.