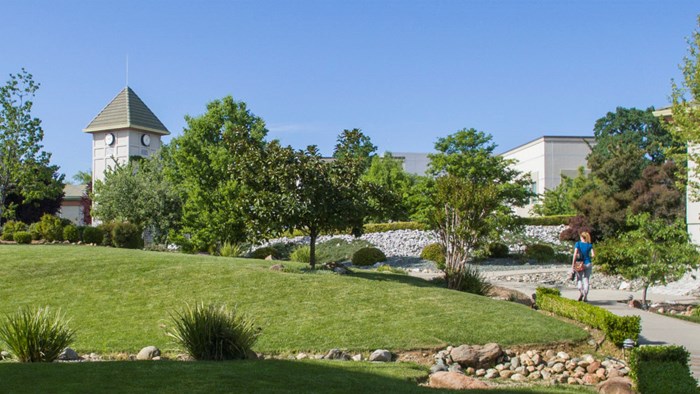 Norman Hall knew what he needed to do. The new president of Simpson University was appointed in 2018 to save the Christian and Missionary Alliance-affiliated school in Redding, California. The hard part was how.
Enrollment was dropping at Simpson. In 2014, more than 1,000 full-time undergraduate students signed up to start classes in the fall. Four years later, there were only about 620. With that sharp decline in enrollment, revenues were disappearing fast. Faced with a budget shortfall, the administration eliminated 56 faculty and staff positions—but it wasn't enough.
With the budget in crisis, the Northern California school was in danger of losing its accreditation. The Western Association of Schools and Colleges notified Simpson it was on a two-year probation. Things needed to turn around, quick, so the school hired a new president and presented Hall with this problem.
From his perspective, there were really only two options. Cut the budget. And attract more students. It wouldn't be easy.
"It's like you have a living organism," said Hall, who studied biology and sociology before earning his doctorate in educational administration at Pepperdine University. "You're going to reduce some of the tissue in one area and grow tissue in another area and you don't want to kill the organism."
Many of Simpson's peers—small evangelical colleges and universities across the United States—are making similar calculations about where to cut and what to grow. Declining enrollments have thrown evangelical higher education into crisis. Administrators, experts, and many close observers believe that Christian colleges will have to change to survive. What no one knows, right now, is whether any of the changes they're making will be enough.
The critical issue for small evangelical schools is the number of students paying tuition. Most small colleges' donor base is limited, making it difficult to rely on fundraising or the endowments that buoy big state schools and Ivy League institutions. For the evangelical Christian schools that are full members of the Council for Christian Colleges and Universities (CCCU), tuition accounts for about 80 percent of revenue, said Tim Fuller, an enrollment consultant.
"For most of these campuses, they rise and fall on enrollment," said Fuller, who works with the North American Coalition for Christian Admissions Professionals (NACCAP).
Evangelical schools have been concerned about enrollment for a long time. But then the financial crisis of 2008 created serious problems. Responding to their economic uncertainty, prospective students and their parents seemed to increasingly prioritize an education that would lead to a good job over one that would integrate faith and learning.
Add to that the declining birthrates, which lead to fewer people attending college, the shrinking percentage of young people who identify as evangelical Christians, and concerns about rising rates of college debt. Small, private Christian colleges were hit with a crisis.
New Programs: Engineering and Fishing
Sixty five percent of the CCCU-affiliated schools saw full-time undergraduate enrollment drop between 2014 and 2018, according to data from Integrated Postsecondary Education Data System (IPEDS). There was a loss of more than 3,000 students for the 112 US schools that are full members of the CCCU.
In response, evangelical institutions started adding new programs to attract new students. Adding a major can make a Christian college competitive with a nearby state school, so about 65 percent of CCCU institutions have added programs since 2010. According to CT's survey, the most popular new majors at evangelical colleges include nursing, engineering, computer science, and other technology related fields. The schools have added more than 126 new undergraduate programs, according to news reports and press releases, as well as about 50 athletic programs, including esports, bass fishing, fly fishing, acrobatic tumbling, swimming, and football.
Simpson added three new programs: engineering, computer information systems, and digital media. The school also added several sports programs, including swimming and bass fishing.
There is a limit to how much this helps, though. For one thing, it isn't cheap to launch a new program, according to Gillian Stewart-Wells, provost at Judson University in Elgin, Illinois. Judson has sought to enroll more graduate students so it's less reliant on undergraduate enrollment. However, costs associated with masters or doctorate programs, including library books and adjunct salaries, are higher than undergraduate programs.
"We need to be very strategic about making sure that it doesn't tip the scales," Stewart-Wells said.
Adding programs doesn't upset a campus in the same way that cutting programs invariably does, but it also doesn't always solve the problem. According to Fuller, a new program may attract students initially, but there can be a challenge with keeping those students over the next few years.
Debating Essential Identities
If adding programs doesn't work, the other option is subtraction. Since 2010, CCCU schools have cut at least 84 undergraduate majors, as well as 11 minors and 19 graduate programs, according to news reports and press releases. A few majors were merged into other departments or became minors. The most common eliminations at Christian colleges came from the language departments, humanities, education, and ministry. Many students at Christian colleges can no longer major in worship ministry, philosophy, or French.
There's no centralized database keeping track of faculty cuts and the elimination of staff positions, but a CT survey shows that at least 944 jobs have been eliminated at CCCU schools in the last decade. About 30 percent of the evangelical schools have let people go.
Cuts can be deeply divisive to Christian college communities, pitting people against each other in heated debates about what is essential to the school's mission and identity. Humanities faculty and college administrators, in particular, become locked in conflict. Faculty sometimes say they feel the administrators don't appreciate the value of the liberal arts; the administrators say the faculty don't understand the dire financial realities forcing tough decisions.
"No one's happy about this. No one's happy about cuts. No one's happy about people losing their jobs and programs being cut," said John Fea, a history professor at Messiah University.
Click here to read more.
Source: Christianity Today