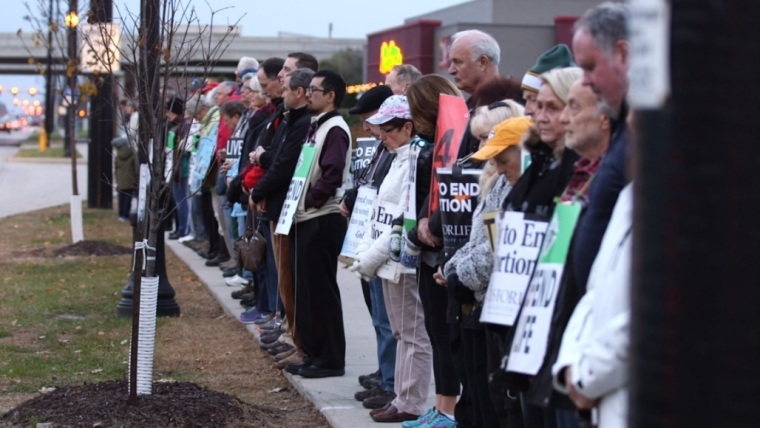 The annual pro-life prayer vigil campaign 40 Days for Life will reportedly break a record for the most participating cities this year, despite pandemic-related shutdowns.
The 40-day annual event, which involves pro-life activists regularly praying outside of abortion clinics seven days a week, will begin Sept. 23 and conclude Nov. 1.
Shawn Carney, president and CEO of the group 40 Days for Life, told The Christian Post that 588 cities were participating this year, the largest since the observance was first held in 2007.
"Many thought that the pandemic and civil unrest in our streets would be a deterrent, but I am so proud of the local leaders who came out in droves to apply, train, and lead their campaign locally," said Carney.
"The desire to help women and their unborn children is at an all-time high despite nearly five decades of legalized abortion. The pro-life movement gets larger and younger by the day and that is illustrated in this record."
Carney also told CP that for the prayer campaign, his organization "enhanced and expanded our training for the pandemic but also for security and keeping all participants safe."
The campaign is ready for any potential litigation, Carney explained, noting that they have "extensive legal support" available just in case a vigil faces legal harassment.
"Historically, 40 days for Life is well-known in the communities we are in and we have a good reputation with local officials and law-enforcement," he continued.
"If a local judge attempts to use COVID-19 as a vehicle to suppress our rights, then we are prepared to respond and defend those rights as Americans."
While largely concentrated in the United States and Canada, according to their website, 40 Days for Life vigils are slated to occur in several countries, including the United Kingdom, Argentina, Croatia, Germany, India, Nigeria, Spain, and Uganda.
Click here to read more.
SOURCE: Christian Post, Michael Gryboski