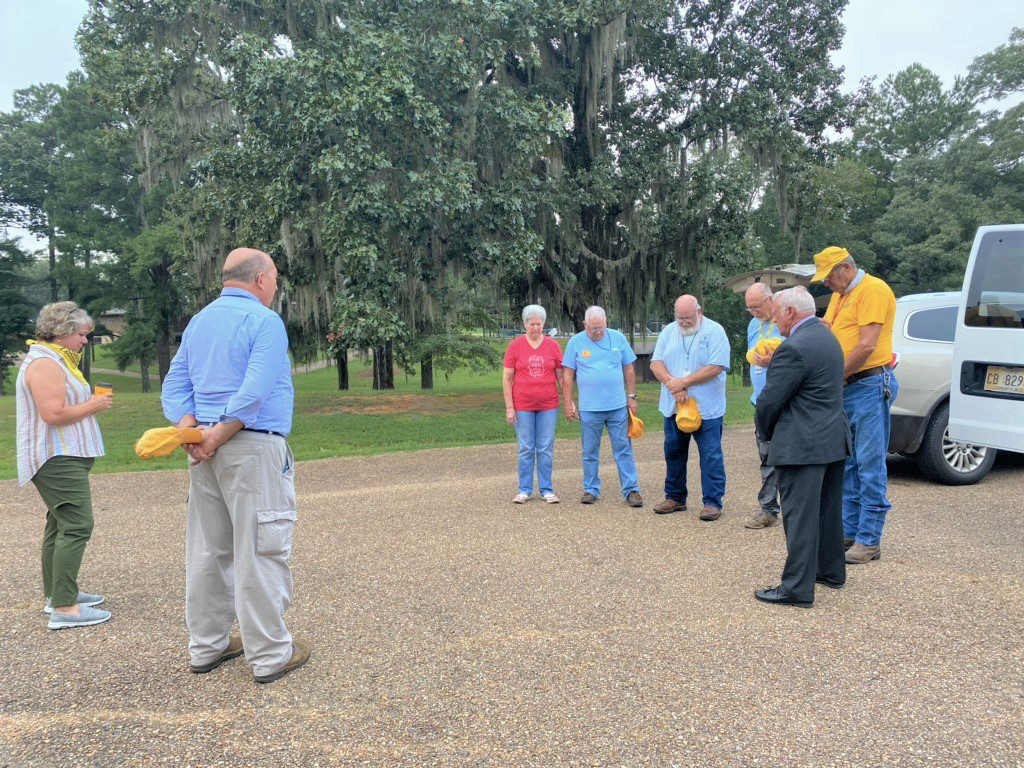 Mississippi Baptist Disaster Relief (MBDR) teams were in the first wave of a large response of Southern Baptist Disaster Relief(SBDR) teams rolling into Louisiana after Hurricane Laura raked the state on Aug. 27.
A 20-person team of MBDR mass feeding specialists has been working in Lake Charles at what is known as a "super kitchen" field facility of the Salvation Army disaster relief program. The first team of MBDR volunteers rotated out on Sept. 3 and were replaced by another MBDR team.
MBDR chainsaw teams from Chickasaw Association Baptist Disaster Relief in Houston and Temple Church in Hattiesburg have begun work in DeRidder, La. In Moss Bluff, La., MBDR chainsaw teams from Lee/Itawamba Association in Tupelo and Yalobusha Association in Coffeeville have started their work.
Rotating in for work in DeRidder over the Labor Day weekend will be a combination team with elements from Dixie Church, Hattiesburg, and Attala Association, Kosciusko. In Moss Bluff over the holiday weekend will be members of First Church, Madison; Brandon Church, Brandon; Gulf Coast Association, Gulfport; and Jackson County Association, Pascagoula,
Teams from Calhoun Association, Calhoun City; Fairview Church, Columbus; and Simpson Association, Mendenhall, will provide chainsaw services through the middle of September.
The Louisiana Baptist Joint Incident Command has asked MBDR to provide teams possibly through October 3.  MBDR is currently recruiting credentialed volunteers and scheduling teams to meet this need. An assessment closer to the date of that mobilization will be made in coming weeks, but is currently expected to be needed.
MBDR assessment/chaplaincy teams continue to operate in the Deville/Alexandria, La., area. Louisiana Baptist Joint Incident Command has requested that Mississippi Baptists provide replacement assessment/chaplaincy teams when the current teams rotate home around September 11.
Additional state Baptist disaster relief teams working in the areas damaged by the Category 4 storm include:
— Arkansas Baptist Convention, headquartered in Little Rock.
— Florida Baptist Convention, headquartered in Jacksonville.
— Kentucky Baptist Convention, headquartered in Louisville.
— Louisiana Baptist Convention, headquartered in Alexandria.
— Missouri Baptist Convention, headquartered in Jefferson City.
— Baptist State Convention of North Carolina, headquartered in Cary.
— Baptist General Convention of Oklahoma, headquartered in Oklahoma City.
— Baptist Convention of New Mexico, headquartered in Albuquerque.
— South Carolina Baptist Convention, headquartered in Columbia.
SENDRelief, a Southern Baptist humanitarian relief program administered jointly by the International Mission Board in Richmond, Va., and the North American Mission Board in Alpharetta, Ga., is also on the ground in support of the Baptist volunteer teams committed to the Laura relief effort in Louisiana and neighboring southeast Texas.
Click here to read more.
Source: The Baptist Record