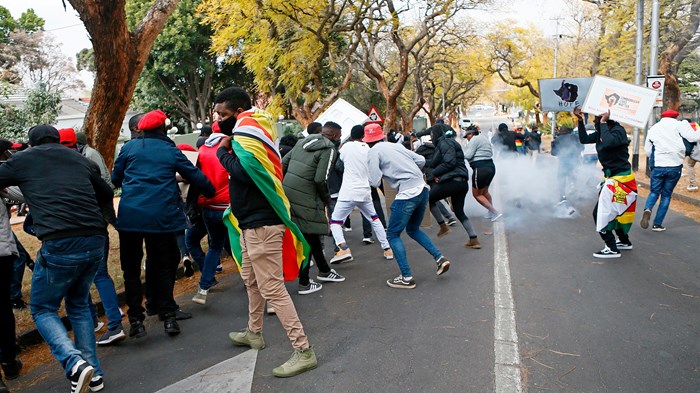 Zimbabwe, in its 40 years of independent history, has "never enjoyed life."
And as the Evangelical Fellowship of Zimbabwe (EFZ) stands in solidarity this week with maligned Catholic bishops accused of fomenting genocide, its president, Never Muparutsa, told CT the Southern African government is failing to honor its biblical responsibility.
There are too many poor, amid official repression.
The problems predate the presidency of Emmerson Mnangagwa. In 1965, white apartheid settlers declared the independent nation of Rhodesia; however, it was not until 1980 when Robert Mugabe's violent revolutionary movement achieved universal suffrage.
But failures in economic integration, anti-white racism, and political corruption plagued the renamed nation of Zimbabwe. After nearly three decades in power, an aged Mugabe was overthrown by the military following sustained popular protests in 2017.
Initially lauded across the continent as a pioneering African nationalist, by the end Archbishop Desmond Tutu called Mugabe "a cartoon figure of an archetypal African dictator."
Mnangagwa, Mugabe's vice president, was installed as his replacement by the military, and ushered in a new period of hope after he won election in 2018. He passed the National Peace and Reconciliation Act to address the 1983–85 massacres in which up to 20,000 civilians were killed.
But worsening economic conditions led to sometimes riotous protests in January 2019, which were forcibly suppressed by Mnangagwa's administration, with hundreds arrested. One month later, the Zimbabwe Heads of Christian Denominations (ZHCD) launched the nation's first National Leadership Prayer Breakfast to appeal for dialogue.
Zimbabwe's population of 14 million is 86 percent Christian, and the ZHCD is the umbrella organization uniting the four primary expressions of the faith.
The EFZ, comprising Baptist and Pentecostal churches, is the nation's oldest, founded in 1962. The Zimbabwe Council of Churches (ZCC), representing the missionary-era efforts of Methodists, Lutherans, some Baptists, and others, was founded in 1964 and affiliates with the World Council of Churches. The Zimbabwe Catholic Bishop's Conference, recognized by the Vatican, was founded in 1969.
In 1993, the ZHCD helped organize the nation's indigenous churches, many of which are syncretistic in practice, into its fourth member body, the Union for the Development of Apostolic Churches in Zimbabwe.
In October 2019, the four groups collectively called for a "seven-year political sabbath" to reset the nation and address its polarization and economic decline.
But as inflation soared over 800 percent, protests scheduled for July 31 last month were also squashed, with a prominent journalist and opposition leader put in prison. The EFZ warned the moment was a crossroads for the country, endorsing the "Zimbabwean Lives Matter" hashtag.
And last Sunday, the Catholic bishops authorized the nationwide reading of a definitive statement.
"Fear runs down the spines of many of our people today," it said. "The crackdown on dissent is unprecedented … Our government automatically labels anyone thinking differently as an enemy of the country: That is an abuse."
Click here to read more.
Source: Christianity Today