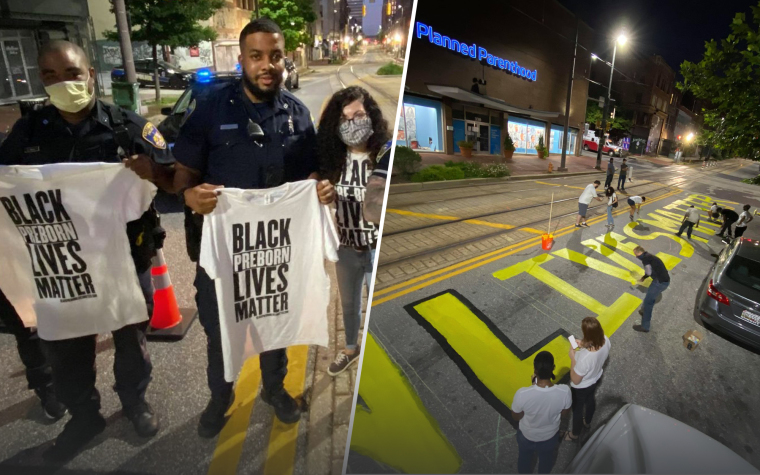 At 5 a.m. on Saturday, pro-lifers in Baltimore and with Students for Life of America gathered to paint "black preborn lives matter," covering the street with the large letters outside of a Planned Parenthood facility. The group called it a "success" after no arrests were made.
Police officers arrived on scene during the painting process on N. Howard St. in Baltimore. While they contacted the supervisor of the event to get more information, they did not arrest anyone or order anyone to vacate the area.
The officers were given shirts with "black preborn lives matter" printed on them, which they posed with for a photo.
During a similar pro-life painting event last month in Washington, D.C., two members of the SFLA community were arrested for using sidewalk chalk on a walkway outside of a Planned Parenthood. The chalk they were using had been approved by D.C. Metropolitan Police department before and the area they were drawing on was not Planned Parenthood property.
SFLA said "legal action is underway" regarding the Washington arrests.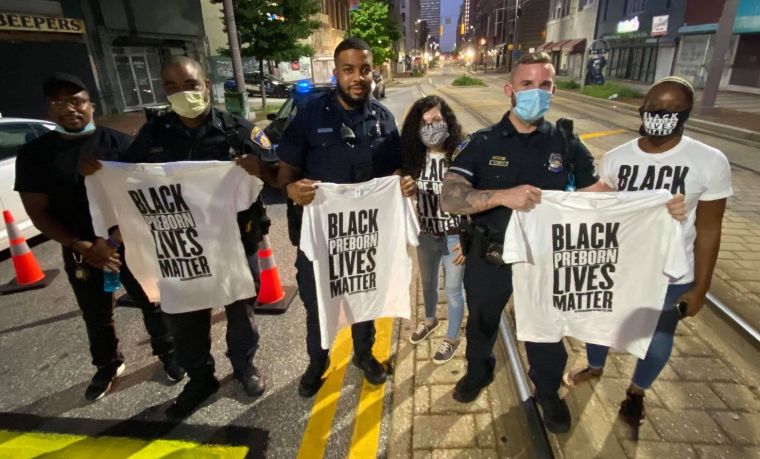 Before Saturday, SFLA sent a letter to Baltimore Mayor Bernard Young requesting a permit for the event. The permit was never granted or denied, an SFLA spokesperson told The Christian Post. The letter addressed other paintings of expression supported by Mayor Young and demanded that the same permission be granted for SFLA.
"City officials intervened to allow a Black Lives Matter artwork to continue to be displayed. We ask that our message of hope and a future – BLACK PREBORN LIVES MATTER – receive the same support and respect in Baltimore. We are asking you, Mayor Young, to respond promptly to our permit with permission to add our message in favor of the dignity of Black preborn life to the public forum of the city streets, which you have opened to others," the letter stated.
The letter further suggested that to allow some forms of protected speech and not others is unmerited discrimination: