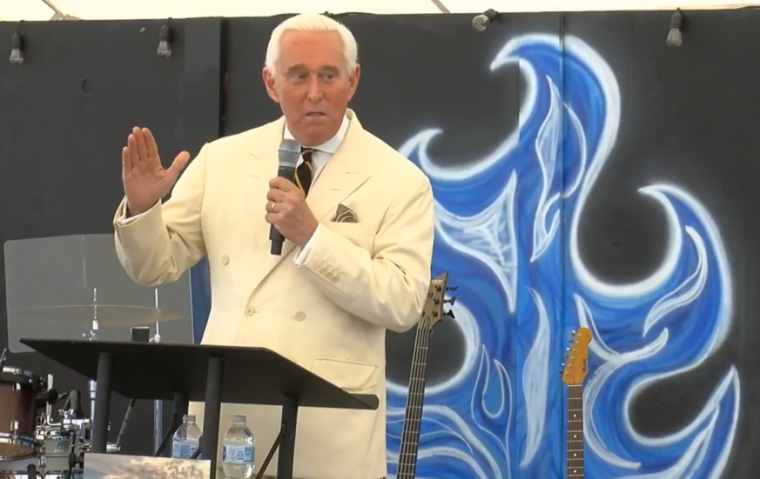 Conservative political consultant and lobbyist Roger Stone, whose 40-month sentence in federal prison was commuted by President Donald Trump in July, testified how he turned his life over to God at a Franklin Graham revival after "hitting rock bottom" in January 2019.
Speaking at Global Vision Bible Church in Tennessee led by popular internet personality Pastor Greg Locke on Sunday, Stone said that he was unjustly persecuted for his support of Trump, who has been his friend since 1979.
Stone was convicted in January 2019 of lying and witness tampering in the investigation about collusion between the Trump campaign and Russia. Though his prison sentence was commuted, former special counsel Robert Mueller defended the investigation he led, writing in The Washington Post in July that Stone "remains a convicted felon."
"By January before my trial, I had hit rock bottom. I was angry that I could not defend myself. This was like a guy going into a boxing match with both hands tied behind his back and then having the fella from CNN say 'well, Stone never landed a punch,'" Stone said in a Facebook Live broadcast of the service.
"I was angry. I was frustrated. I was worried about who would support my wife if I were unfairly incarcerated. I was worried about the violence in the streets of D.C. and that was just beginning, which made just an appearance there for court dangerous. You'd literally risk your life going to and from the court house or to and from your hotel," he said.
Stone explained that during the time he endured being persecuted for his support of the president, a number of spiritual leaders had encouraged him to turn to God. But it wasn't until he met a 26-year-old preacher named Rev. Randy Coggins that he was moved to make his new leap of faith.
"He was relentless in telling me when he would hear my tale of woe and the fact that I knew I was headed for destruction at the hands of the evil that I put myself in the hands of the Lord," Stone said.
He said one day Coggins invited him to attend a Franklin Graham revival in Boca Raton, Florida, and he was able to sit with Graham for about 20 minutes on his tour bus where he poured out his heart.
"And he said 'well, how can I help you' and I said 'well, you're a good friend of the president, my lawyers won't let me speak to him, his lawyers won't speak to me. I hadn't talked to the president at that point three years," Stone said.
"And he (Graham) said 'well, I'll see what I can do. But let me give you a better piece of advice. Are you a religious person?' And I said, 'Well, reverend, I was born in the Catholic Church, I received my sacraments there, I had my first Holy Communion there, I had my confirmation there, if you are asking me do I believe in the birth, death and resurrection of Jesus Christ, the answer is yes. But I confess to you I have not always walked in His way.
Click here to read more.
SOURCE: The Christian Post, Leonardo Blair