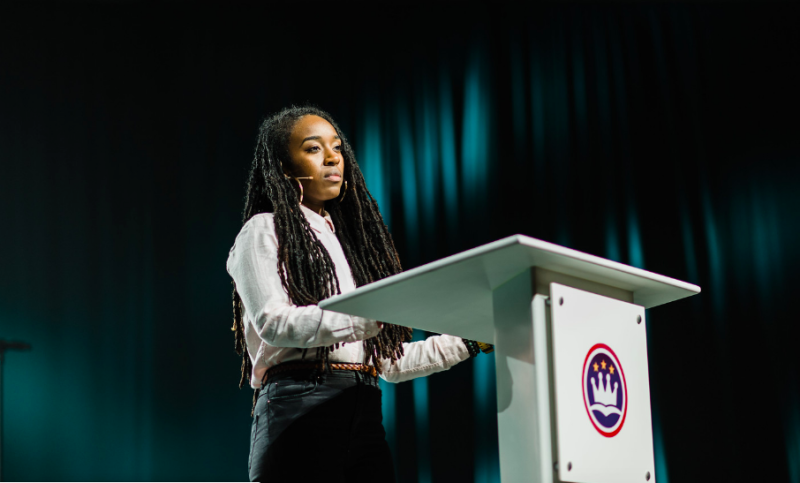 Two years ago, when Jackie Hill-Perry, a talented writer, poet, and speaker, spoke at a Wilberforce Weekend, she had the entire room leaning forward in their chairs. A powerful speaker with a powerful testimony about following Christ out of a lesbian lifestyle–no one in the audience wanted to miss a word.
Recently, Perry shared her testimony in a YouTube interview with Christian comedian KevOnStage. After leaving a long-term relationship when she gave her life to Jesus and after years of discipleship and deep involvement in the Church, Jackie married Preston Perry, a poet and apologist. They have two daughters, with a third baby on the way.
When, in the YouTube interview, Jackie shared she still struggles with same-sex attraction, her host was noticeably surprised. So was his audience. Many commenters accused Jackie of "suppressing her true self" and "denying the humanity" of others with same-sex attraction. After days of social media pressure, KevOnStage decided to take down the video.
The anger directed at the Perrys reflects a sad fatalism that permeates both the LGBTQ movement and the so-called "gay-affirming" Christians. Their critique is rooted in a bad idea, that our sexual desires fundamentally define us. Therefore, anyone with same-sex attraction will be ultimately powerless against it. No other temptations or sins are thought of this way.
The Perrys addressed this double standard on their own podcast. After all, they mused, no one asks Preston whether he's still attracted to other women. He isn't accused of "denying his true self" by his fidelity to Jackie.
Click here to read more.
SOURCE: Christian Post, John Stonestreet and Maria Baer