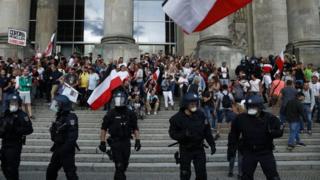 An attempt to storm Germany's parliament during Saturday's big Berlin protest against Covid-19 restrictions has been condemned by politicians across the political spectrum.
Demonstrators, many with far-right sympathies, broke through a cordon and ran up the steps of the Reichstag before police dispersed them.
The interior minister said there should be "zero tolerance" for such behaviour.
Some 38,000 turned out for the wider, largely peaceful Berlin demonstration.
What happened at the Reichstag?
Demonstrators bearing the flag of former imperial Germany – used by the Reichsbürger (Reich Citizens) far-right group – overcame a handful of police to run to the building entrance.
Police put the number involved at several hundred.
Scuffles broke out and the protesters were then overcome by police using pepper spray. Several people were arrested.
Police rejected criticism of their small deployment, saying they could not "be everywhere all the time".
What has the reaction been?
"The Reichstag is the domain of our parliament and the symbolic centre of our democracy. It is unbearable that troublemakers and extremists misuse it for their own purposes," said Interior Minister Horst Seehofer.
President Frank Walter Steinmeier condemned "an unbearable attack on the heart of our democracy".
"Those angered by our coronavirus measures or who doubt their necessity can do so openly, in protests. But my tolerance ends when protesters hitch themselves to the wagon of enemies of democracy and political rabble-rousers."
Vice-Chancellor Olaf Scholz, from the Social Democrats, was one of several to condemn the display of far-right and German imperial symbols.
Click here to read more.
Source: BBC