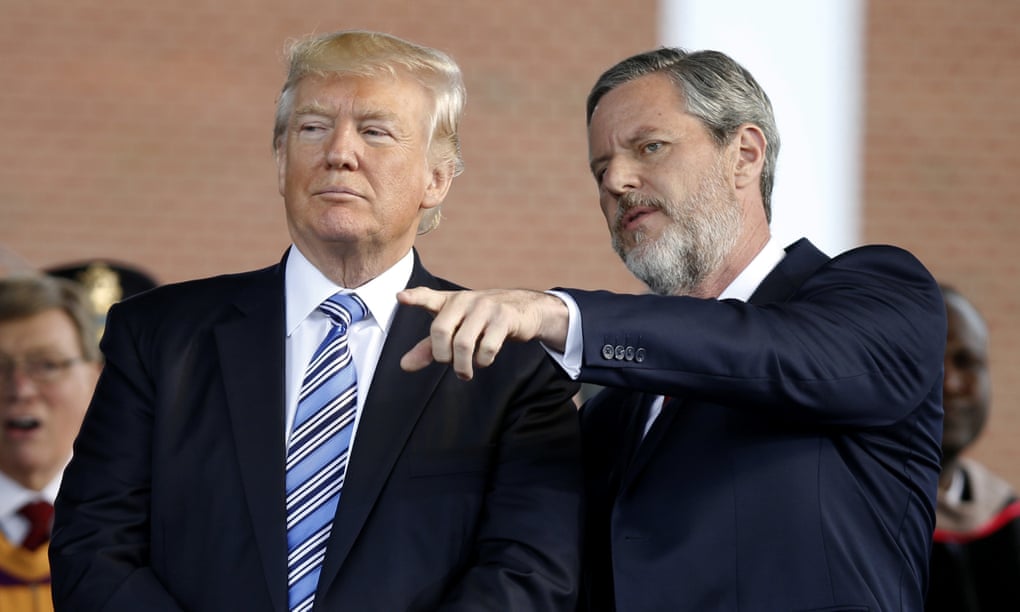 "Every human being is a sinner. We're all imperfect, we're all flawed, and we're redeemed by the blood of Jesus Christ."
When Jerry Falwell Jr, the US evangelical leader, president of the country's premier conservative Christian university and close associate of Donald Trump, told me this in his spacious office in Lynchburg, Virginia, almost two years ago, it was in response to a question about the morality of the US president.
But after a turbulent week in which his status as a figurehead for the Christian right crashed and burned, Falwell may be reflecting on his own flaws and imperfections, and hoping redemption will not be too long coming.
The tawdry end to his career as president of Liberty University, with its $1m-plus annual salary and use of a private jet, could also mean his influence on the political choices of white evangelicals in the US is over just weeks before a knife-edge presidential election.
The essential elements of his downfall are disputed but they centre on his wife's adultery, his alleged voyeurism, her lover's alleged attempts at extortion, and an Instagram photograph of Falwell's unzipped trousers. At its heart, he says, was "a fatal attraction-type situation" – a reference to the 1987 Oscar-nominated psychosexual thriller starring Michael Douglas and Glenn Close.
On Sunday evening, Falwell issued a 1,200-word statement to the Washington Examiner, revealing that he had experienced depression and extreme weight loss as a result of alleged threats by his wife's lover to expose their affair unless money was handed over.
It was a pre-emptive strike. Falwell knew that Giancarlo Granda, a former pool attendant with whom the Falwells set up a business, was poised to go public over his relationship with Falwell's wife, Becki.
In an explosive interview with Reuters news agency, published on Monday, Granda said: "Becki and I developed an intimate relationship and Jerry enjoyed watching from the corner of the room." The encounters, over a six-year period, allegedly took place "multiple times a year" in hotels in New York and Miami, and the Falwells' home in Virginia.
Granda was a 20-year-old pool attendant at a Miami hotel when he met the Falwells in 2012. Without naming him, Falwell said in his statement: "During a vacation over eight years ago, Becki and I met an ambitious young man who was working at our hotel and was saving up his money to go to school … We were impressed by his initiative in suggesting a local real estate opportunity.
"My family members eventually made an investment in a local property, included him in the deal because he could play an active role in managing it, and became close with him and his family."
That closeness extended to an "inappropriate personal relationship" between Becki and "this person", said Falwell; "something in which I was not involved". He was distressed at learning of the affair but "Becki and I forgave each other".
The couple sought to distance themselves from Granda, but he "became increasingly angry and upset", and eventually threatened to make the affair public "unless we agreed to pay him substantial monies". Granda has denied the claim.
Falwell added: "It was like living on a rollercoaster … We were doing our best to respectfully unravel this 'fatal attraction'-type situation to protect our family and the university."
Granda's version is somewhat different. He claimed the couple targeted him, although he was a willing participant. "Whether it was immaturity, naivety, instability, or a combination thereof, it was this 'mindset' that the Falwells likely detected in deciding that I was the ideal target for their sexual escapades," he told Reuters.
The disputed accounts of sexual transgression came just a couple of weeks after Falwell was asked by Liberty University's board to take indefinite leave from his position as president amid a furore over a photograph posted on Instagram, then deleted, showing him on board a yacht with his trousers unzipped and his arm around his wife's assistant. His actions were "just in good fun", he said later.
Click here to read more.
SOURCE: The Guardian, Harriet Sherwood