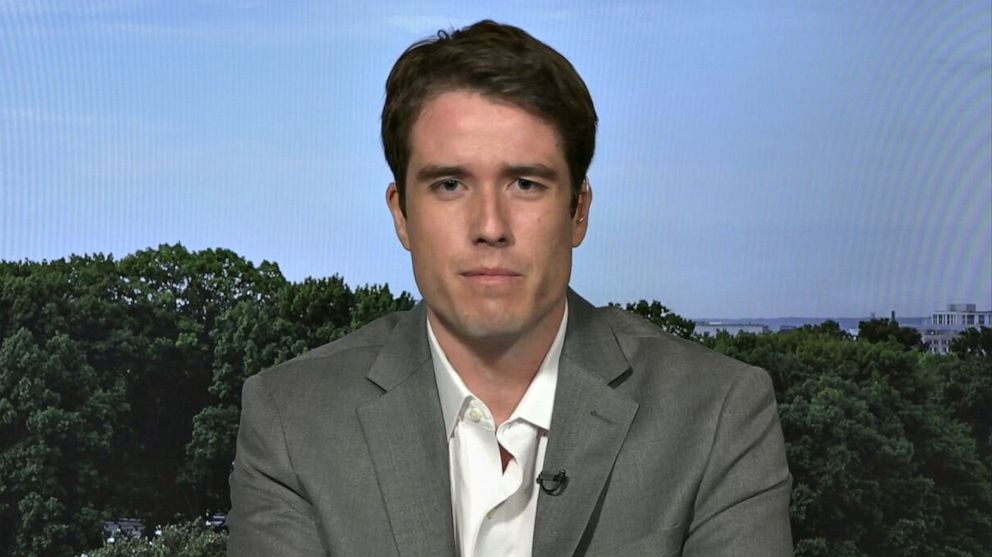 The war of words between a former pool attendant and Jerry Falwell Jr. and his wife Becki escalated on Friday morning as Giancarlo Granda claimed on "Good Morning America" that Falwell "enjoyed watching" him have sex with the former Liberty University president's wife.
"He was aware from day one of our relationship and he did, in fact, watch," Granda, 29, told George Stephanopoulos.
Granda contends that in the spring of 2012, Becki Falwell began to flirt with him at the Miami hotel where he worked and invited him to a hotel room for sex, telling him her husband liked to watch. He said he soon met Falwell — a leading voice in Christian conservative politics — for the first time.
"Jerry was laying on the bed," Granda said. "He was drunk, and he was giggling."
Granda said that the two men awkwardly discussed the parameters of the impending sexual encounter. He insisted that during that first encounter he reassured Falwell that if the older man became uncomfortable, he would leave, "Hey," he said he told Falwell anxiously, "if at any point you get jealous or you want me to back off, just let me know and I'll walk out of here."
Granda said Falwell reassured him, urging him to "go for it."
"He enjoyed watching," said Granda, who told ABC News that the sexual encounters continued "multiple times a year" until 2018 in hotels in Miami, New York and at the Falwells' Virginia home.
Granda said that the Falwells told him during that first encounter that they had visited a Miami swingers' club the previous night but that they weren't comfortable.
"She mentioned that they were actually at a swinger's club the night before but they said it wasn't their thing … they wanted a more intimate session."
Falwell and his wife have vigorously denied most of Granda's charges. A spokesperson for the Falwells directed questions to Granda's attorneys, who did not immediately respond to a list of emailed questions from ABC News.
Granda and the Falwells have been waging a very public battle over the details of a yearslong relationship that both parties acknowledge included a Miami real estate deal and sex between the young man and Becki Falwell — but diverge sharply on the length and the nature of the sexual relationship and the dissolution of the business deal.
Earlier this week, Falwell claimed in a statement that he wasn't involved in what he described as a brief 2012 affair between Granda and his wife — and that he and his wife have long since reconciled.
On Monday, Reuters published an explosive interview with Granda, 29, in which he contended that his seven-year affair with Becki Fallwell began in 2012 – when he was 20 years old. He said that Jerry Falwell Jr. watched his wife's sexual trysts with the younger man from the corner of the room or through video cameras. He provided text messages, screenshots and audio to corroborate his account, according to Reuters. Granda also provided one of the audio tapes to ABC News.
The report suggested the news organization had been working on the story for some time — and noted that Reuters had first presented its findings to the Falwells nearly a week earlier.
While the Falwells have claimed Granda is trying to extort them, he maintains that he is simply trying to dissolve their business partnership and sell his 25% stake in the venture.
"That's false," Granda said of the extortion claims. "That's ridiculous. That's just them trying to smear me." He mocked the idea that "a 20-year-old" was "targeting and preying upon this power couple."
To underscore his point that the Falwells once trusted him, Granda provided ABC News with a recommendation letter he contends that Falwell wrote for him to Georgetown University in 2018. In the letter, Falwell writes that Granda is "consistent … dependable" and operates "with the highest business and ethics standards."
Granda also sought to qualify a previous statement he'd made accusing Falwell of sending him a compromising picture of a female Liberty University student — a photo that the Falwells insist was innocent fun.
He said he was having drinks with the couple at a Miami hotel when Jerry Falwell Jr. sent him the picture.
"I don't know context of the photo … The point is why did he have that picture, why did he share it and why was he publicly joking with him."
Granda denied any political motivations for coming forward now as election season is heating up — but said that he is being represented pro bono by a senior adviser to the Lincoln Project, a campaign that is working to prevent Trump's reelection. The adviser was brought on by Granda's attorney, Aaron Resnick, he told ABC News producers.
Click here to read more.
SOURCE: ABC News, Santina Leuci and Doug Lantz