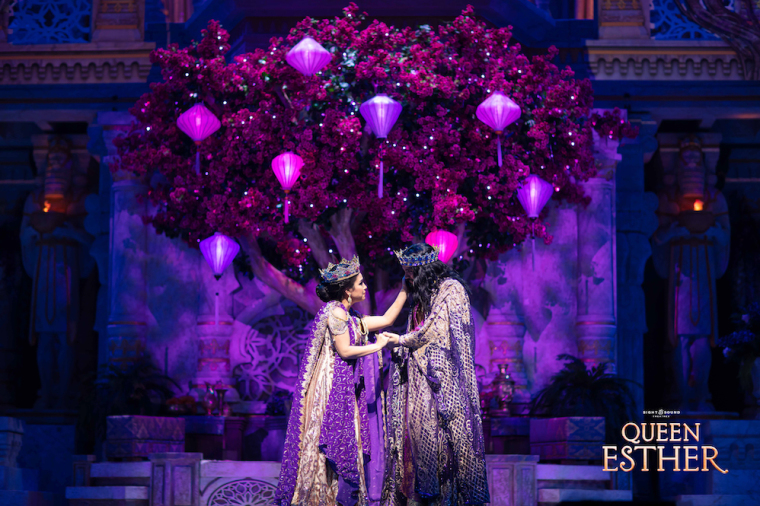 Sight & Sound Theatres is gearing up to present its first-ever live worldwide broadcast of "Queen Esther" and the production's lead actors shared with The Christian Post the impact that being still in God can have on everyone during uncertain times.
Some 434 performances of "Queen Esther" had been scheduled for its nine-month run in the 2,000-seat theater at Sight & Sound's studio in Pennsylvania before it was forced to halt the production after its premiere in March due to lockdown orders in response to the novel coronavirus. The show had sold over 550,000 tickets that were all refunded.
The live performance will now be available to watch on Sight and Sound's new streaming platform sight-sound.tv on Sept. 4 at 7 p.m. Eastern time along with other stage productions by Sight & Sound Theaters on Labor Day weekend.
The following is an edited transcript of CP's interview with lead actors Jessica Brown, who plays Queen Esther, and Justin Mazzella who portrays King Xerxes. The interview was at Sight & Sound Theaters back in March following their show's theatrical debut. Both actors shared how the theme of the production impacted them and how it might help others during this time.
CP: "Be still" is a theme featured throughout this production. Can you talk about the importance of being still in these uncertain times?
Brown: I think that He still is so important. I was doing quiet time and God reminded me of this little incident that happened. So I had a dog, and she ran underneath the Christmas tree and she got stuck underneath the chords of the Christmas tree. I'm sitting there and I'm going, "If you just stop moving," because she's pulling, trying to get out, and it kept getting tighter and tighter on her legs, I was like, "Stop moving, I will come over there and take the chords off of you."
I feel like that's how we are in life. We try to do things in our own strength and we pull and pull, and we go out and do crazy things because we're trying to do things for ourselves, and we're trying to fix it. All He's telling us to do is just, "Stop, I'm going to come over there and I will untie the cords from your legs." I think that that's just one of the really cool things.
Mazzella: You know we say that God whispers, and I believe He whispers because He's close. If we would just be still and listen, we'll hear Him. Sometimes we just want to fix things. Sometimes we just want to take control. And when we lose control we start to freak out a little bit. But sometimes being scared and just understanding that God is at work — the end endgame and goal will be made clear to you if you just wait for His word.
Click here to read more.
SOURCE: Christian Post, Jeannie Law