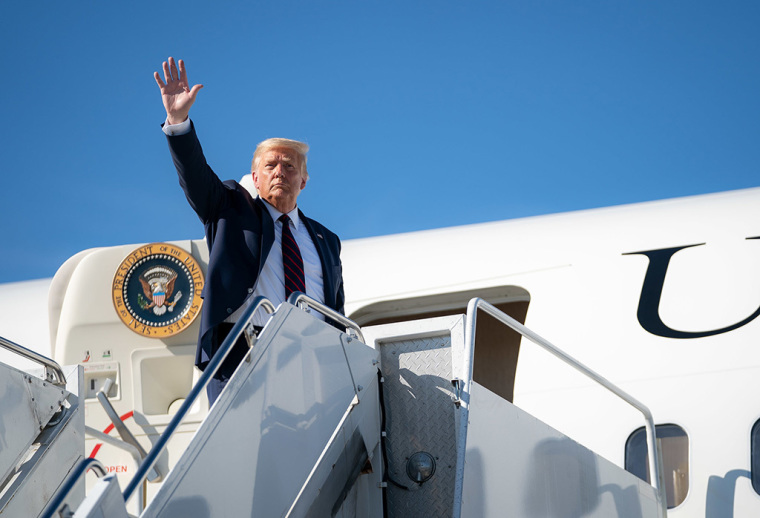 President Donald Trump on Friday responded to the 2020 Democratic National Convention, saying it was "the darkest and angriest and gloomiest convention" in America's history and warned that if former Vice President Joe Biden gets elected, "China will own our country."
"… Over the last week, the Democrats held the darkest and angriest and gloomiest convention in American history," Trump said Friday at the 2020 Council for National Policy meeting, commenting on the DNC convention, which concluded Thursday.
"They spent four straight days attacking America as racist and a horrible country that must be redeemed," Trump continued.
He said Democrats want "to punish American citizens instead of holding them high."
"Where Joe Biden sees American darkness, I see American greatness," the president added. "We've seen heroic doctors and nurses racing into action to save lives. We've seen first responders helping strangers in need. We've seen the passage of historic legislation to save 50 million American jobs. We've mobilized American industry like never before."
Trump told the crowd it was "time to reject the anger and the hate of the Democrat Party." He said the presidential election that's coming up is "the biggest election … of our lifetime."
During daytime sessions of the DNC convention, speakers omitted the phrase "under God" from the Pledge of Allegiance during at least two public meetings.
The moderator of the DNC's Muslim Delegates & Allies Assembly web meeting on Tuesday afternoon left out the words "under God" as he recited the pledge to kick off the meeting. Also on Tuesday afternoon during the LGBTQ Caucus Meeting, the speaker who recited the pledge paused silently instead of saying the words "under God" as written in the pledge.
Trump called it "an attack on God."
"It's an attack on religion. Did you see the man that got up and sang a very, very special phrase from a very, very special thing?" the president asked. "And he left the word 'God' out and I was watching, and I said, 'Oh, he must have made a mistake.' I didn't think that he left it out. I thought maybe he — you know, that can happen. Maybe he made a mistake. He didn't make a mistake. That's where they're coming from. He left the word 'God' out. And that's where they're coming from."
Click here to read more.
SOURCE: Christian Post, Anugrah Kumar