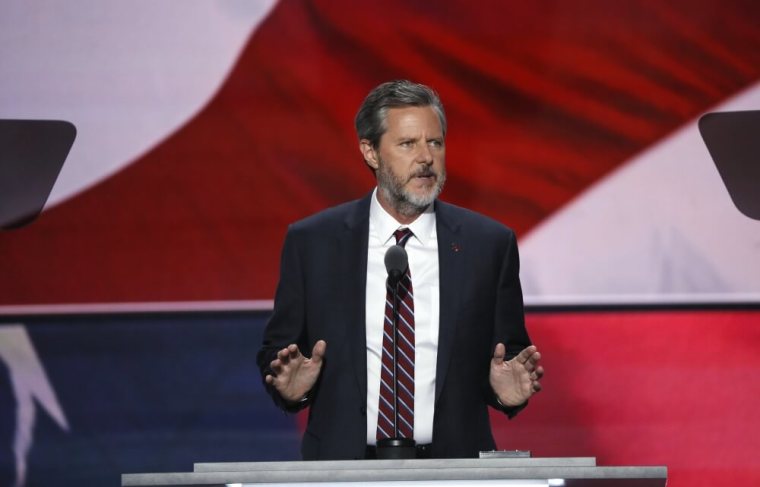 A group of 50 ministers who graduated from Liberty University have sent a letter to school leadership demanding that President Jerry Falwell Jr. be "permanently removed" from office.
Falwell agreed to take an "indefinite leave of absence" earlier this month following a controversial social media post showing him with unzipped pants and his belly hanging out while his arm was wrapped around his wife's pregnant secretary who wasn't able to zip up her pre-pregnancy shorts.
The letter was sent to Liberty's board of trustees and acting University President Jerry Prevo, according to Faithwire.
The alumni told the university that the Lynchburg, Virginia-based evangelical Christian school needed "new leadership that represents the heart of Liberty University's mission."
"It is because of our deep love for Liberty University and our great optimism for its future that we write to you today to urge you, the Board of Trustees, to permanently remove Mr. Falwell as president and chancellor and replace him with a new leader," read the letter, in part.
"We do not write out of any personal vendetta against Mr. Falwell. We recognize that under his leadership, since his father's death in 2007, the school has experienced significant financial and institutional growth and added important programs that are poised to shape a generation of Christian leaders in nearly every field of study."
The letter echoes the demands of a website called Save71, a group of alumni who posted a statement arguing for Liberty to "remove President Falwell and replace him with a responsible and virtuous Christian leader."
"To do this, the board should appoint an independent committee of leaders from within the Liberty community, as well as leaders outside of it, to begin the search for a new president," the group states on its website.