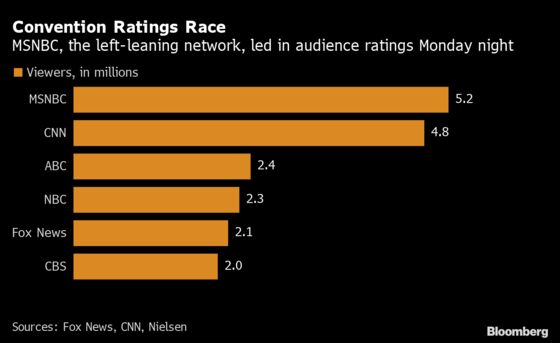 (Bloomberg) — About 5.7 million people tuned in to the first night of the Democratic National Convention on the major broadcast networks, cutting the viewership of four years ago in half as the virtual event proved a tougher sell than the traditional live gathering.
From 10 p.m. to 11 p.m. New York time, Monday's convention debut drew 2.1 million viewers on Walt Disney Co.'s ABC, 1.9 million on Comcast Corp.'s NBC and 1.7 million on ViacomCBS Inc.'s CBS, according to Nielsen's fast affiliate data. About 11.6 million people watched the first night of the event on those networks four years ago between 10 p.m. and 11:30 p.m., the website TV by the Numbers reported at the time. Cable ratings will be available later Tuesday.
The unusual four-day program, which was moved online due to the coronavirus, began with urgent calls from Democrats to elect former Vice President Joe Biden and push President Donald Trump out of office. It featured music videos and speeches from popular figures such as former first lady Michelle Obama and Senator Bernie Sanders. Obama, Sanders and Senator Elizabeth Warren spoke on the first night in 2016.
Source: Bloomberg