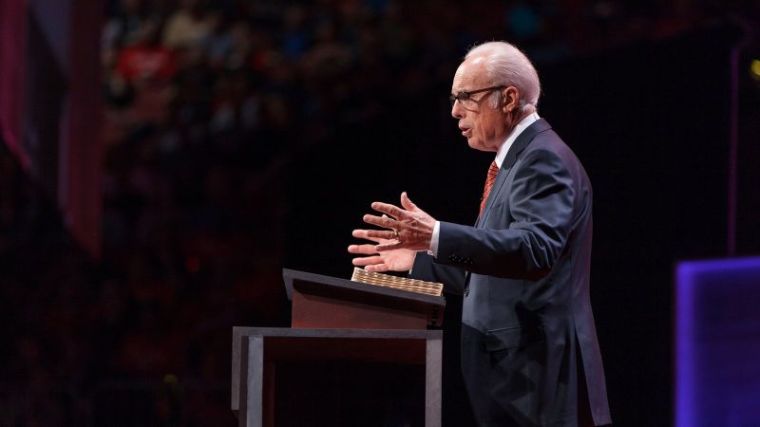 Legal counsel for John MacArthur's Grace Community Church said that Los Angeles County is seeking a restraining order to stop the pastor from holding any in-person services on Sunday.
During a Thursday interview with The Daily Wire's Andrew Klavan, MacArthur's attorney Jenna Ellis revealed that L.A. County is now seeking a temporary restraining order to prohibit Grace Community Church from "allowing any form of indoor worship and also outdoor worship that does not comply with its ridiculous mandates."
"They are trying to restrain Grace Community Church and we, of course, will defend their constitutionally protected rights," she said.
"This is not Pastor John and Grace Community Church defying the law," Ellis, who is also a senior legal adviser of the Trump 2020 presidential campaign, said. "The law in America and the state of California is the Constitution and those protections. This is Grace Community Church standing on the side of the law against these overreaching tyrants that are defying their oaths of office when they are commanded, mandated by the Constitution to preserve and protect our right to free exercise of religion."
The order comes a day after the Thomas More Society filed a lawsuit against California officials on behalf of the church and MacArthur, who were recently threatened with fines and imprisonment for holding in-person worship services despite Gov. Gavin Newsom's most recent lockdown orders prohibiting church gatherings.
In the complaint, MacArthur and Grace Community Church accuse state government officials of selectively restricting gatherings amid the pandemic.
"When many went to the streets to engage in 'political' or 'peaceful' protests purportedly against racism and police brutality, these protestors refused to comply with the pandemic restrictions. Instead of enforcing the public health orders, public officials were all too eager to grant a de facto exception for these favored protestors," the suit states in part.
Click here to read more.
SOURCE: Christian Post, Leah MarieAnn Klett