Question:  What is the significance of Billy Graham being placed in the Statuary Hall of the U.S. Capitol?
By act of Congress in 1864, each state in the United States is eligible to have a statue of two of its deceased citizens deemed worthy of this great honor. As states were added to the union, overcrowding became a problem. So, beginning in 1933, each state was allotted one statue in Statuary Hall and one other statue that would "be given prominent locations in designated areas of the Capitol."
Also, states could replace a statue with another deceased citizen deemed more worthy. This is what happened in the case of Billy Graham. Dr. Graham was not eligible until his homegoing in his 100th year in 2018. Within a few months of his death, the North Carolina legislature began the process of replacing Governor Charles Brantley Aycock with Billy Graham, a process now completed, and the Billy Graham statue is being sculpted as you read this column.
Who was Charles Brantley Aycock? This is where the story gets really interesting — and encouraging. Gov. Charles Aycock was a North Carolina politician, best known today for instigating and leading a race riot in 1896 in order to violently overthrow a duly elected black majority local government. It is hard to imagine why Gov. Aycock's statue was still in Statuary Hall in the first place.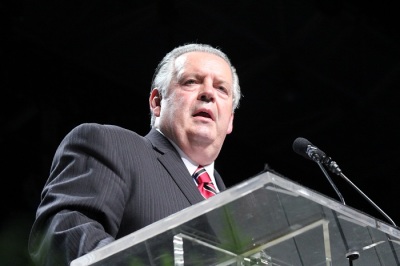 In any event, how encouraging that he is now being replaced by Billy Graham, perhaps the greatest Christian evangelist since the Apostle Paul. Dr. Graham's statue will depict him as he was in the 1960s, Bible in hand, preaching the Gospel of his Savior.
Few men have known the personal fame and adulation that Billy Graham experienced, but he remained an incredibly humble man his entire life according to those who knew him best. His son Franklin Graham responded to the news by saying, "My father would be very pleased that people thought of him this way, but he would want people to give God the glory and not himself."
And that is so true. The Billy Graham Library (documenting his incredible life and ministry) is Charlotte's number one tourist attraction. And the library does fulfill Billy Graham's goal that it might "magnify Jesus," not Billy Graham.
Click here to read more.
SOURCE: Christian Post, Richard D. Land