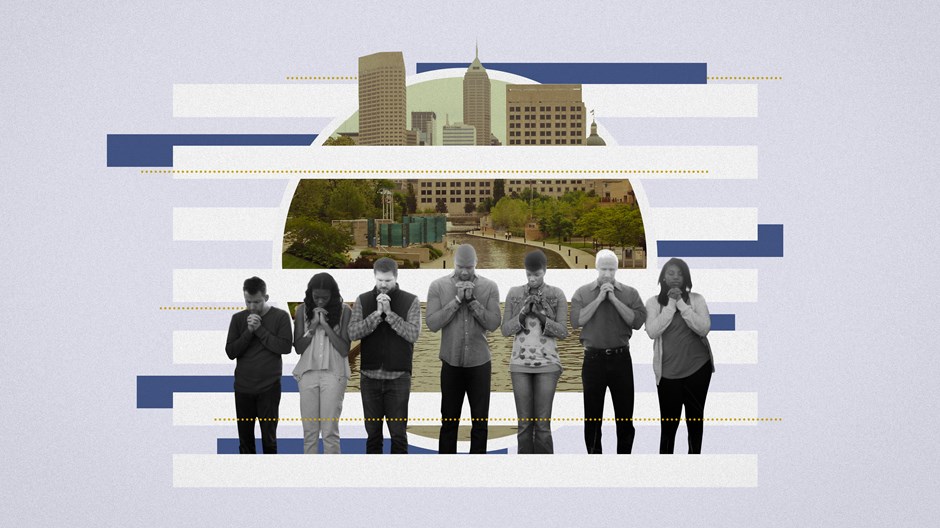 Julie L. Moore is an associate professor of English and director of the writing center at Taylor University in Indiana. Her most recent book is Full Worm Moon: A Book of Poems.
---
In a cool morning in March, I gather at my church with fellow members in Marion, Indiana. We stand in a circle in the parking lot, holding hands, praying not only for our body of believers but also for our town.
This is a church plant of the Evangelical Community Covenant Church, which we call R.E.A.L. Community Covenant Church. We attempt to incarnate our name: We are Relational, Evangelical, Authentic, and Loving. Despite our location in a city with a fraught place in America's ugly racial history, ours is the only integrated church in the area.
We are a multiethnic, multiclass church, with different experiences of life in America and different journeys to this place. But we have a clear mission: To reconcile residents to Christ and to one other. Colossians 1:20 directs our path. It is Christ—God incarnated, crucified, and resurrected—who will reconcile all people, all things, to himself.
Which is why we are here, holding hands in a stony parking lot. Every one of our prayer walks begin and end here. I've been a long time in getting to this place.
I grew up in south Jersey in an affluent suburb, where the schools were so good that my brother, sister, and I had our choice of AP courses and studied Latin for four years. We enjoyed the pleasure of the countryside, too. A few times a year, my parents would pack us up and take us to the Pocono Mountains in Pennsylvania. There, my great-grandfather would lead us through his 40 acres of meadows and woods, remarking on bears and deer that had left their marks and complaining about the loggers who were clearing yet another part of the forest beyond his property.
You could look at my family in that moment and see how we'd earn advanced degrees, establish comfortable lifestyles, and raise our own children in safe neighborhoods.
I was a child of white privilege, though I had no idea. Even after college and graduate school, it was easy for me to believe in the American dream. Hard work and decent living would ensure success. I believed that anyone could achieve the American dream and our laws ensured equality for all. Segregation was over, everyone had the right to vote, and racism was a thing of the past.
But in 1990, I began to teach at Wilberforce University. The school is our nation's oldest private historical black university, affiliated with the African Methodist Episcopal Church. I quickly learned how many misconceptions I had. A student, for instance, came to me one day before class to let me know she'd missed the previous class because of an appointment at the public assistance office. She whispered this information so low I could barely hear her. Her words destroyed the racist stereotype of the "welfare queen" in 60 seconds.
My students taught me what it was like to hear white passersby hurl racial epithets at them, shop owners follow them around stores, and police officers pat them down because of cross-racial misidentifications. They also taught me hard work isn't a guarantee of opportunity. And they made me wonder why the depictions of Jesus I had seen all my life were white. Wasn't our savior a Middle Eastern Jew?
Above all, my students taught me about community. When we talked in class about their educational goals, they would talk about their neighborhoods, families, and friends back home. They were compelled to get an education so they could go back and, as they'd often say, reach back and help someone else up the ladder.
A New Vision of Community
In all my years at church, I had never seen such conviction and solidarity. I'd never seen that commitment to any beloved community. To my shame, I'd never even thought of it. When I was in college, I had two goals: Glorify the Lord and pursue the American dream—both on a fairly individual basis. My objectives included graduating, landing a good job, getting married, and buying a house. Sure, I'd serve in church and cook dinners for people. Maybe I'd even support a missionary. But return to my hometown and help the people I grew up to survive and succeed? Until I taught at Wilberforce, I had never even heard of that.
Some of my fellow R.E.A.L. church members have had similar journeys. Like me, they too spent years worshiping in predominately white churches, never questioning why, as Martin Luther King Jr. said, 11 a.m. on Sundays was the most segregated hour of the week. Shara McClanahan, one such member, echoes this experience: "Before R.E.A.L., I primarily did life with people who looked like me, thought like me, talked like me, and believed like me. R.E.A.L. has called me, a white, educated, middle-class female, to join arms with others, to cultivate heaven on Earth through resisting, interrupting, and transforming the systems that create inequity in our world."
Focused on that mission, our church seeks to develop a beloved community. Just as God the Father, God the Son, and God the Spirit mysteriously work together to convict us, redeem us, and sanctify us from sin, we must work together—carrying each other's burdens, empowering each other to use our diverse gifts, and reconciling with one another.
As our pastor, Drew Morrell, says, "Don't roll solo."
We leave the stony parking lot together and head one block away to Drake's Outdoor Court, which is located in a resident's yard. A married couple who once lived there built it when the city of Marion eliminated the two public parks in the neighborhood. Pastor Drew and other men in the church frequent this spot to play games with the kids, get to know them, and invite them to church. We hold our annual church picnic here, too, when we invite police officers and neighbors alike.
We pause beneath the basketball hoop, standing on the blacktop painted with white arcs, circles, and lanes, to pray for this community, the kids who play here, and their families. We invite the Holy Spirit to indwell this place and bless these beloved people.
Click here to read more.
Source: Christianity Today