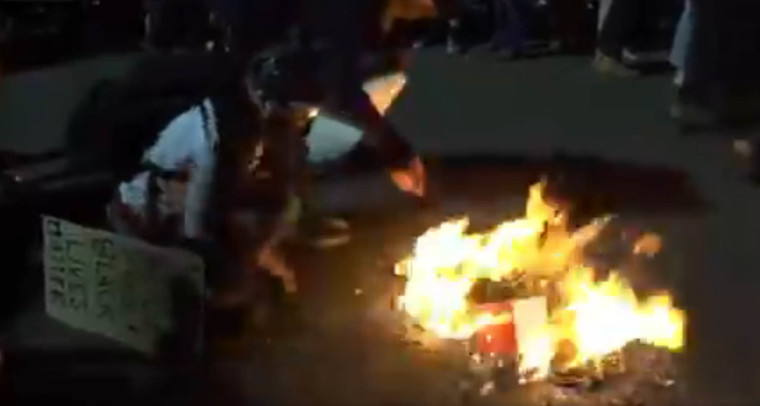 Was a Bible burned in Portland? Yes, but that's only part of the story.
On Aug. 1, the story began circulating that "left-wing activists" burned a "stack of Bibles" in front of the federal courthouse in Portland, Oregon, the previous night. The story was shared widely, especially among conservative media.
However, the New York Times reported yesterday that the individual who first tweeted the story "has amassed a large Twitter following by playing a right-wing American raconteur on social media." The paper states that this individual added his own commentary, "wildly exaggerating" what the video showed.
The Times also reports that the video came from Ruptly, which it describes as a video news agency financed by the Kremlin. The Times article alleges that the video consisted of "images selected to mislead." It reports that "a few protesters among the many thousands appear to have burned a single Bible—and possibly a second—for kindling to start a bigger fire." And it references a local television reporter who "heard about the Bible burning and noted it with a single sentence in a lengthy report on that night's protests," linking to his report.
However, there seems to be more to the story. That reporter is named Danny Peterson with CBS station KOIN 6. He was present on the evening of July 31 and tweeted several videos and photos of protesters burning American flags. He also tweeted a photo of what he described as "a Bible being burned." The fact-finding website Snopes spoke with Peterson, who confirmed with protesters that the book he saw burning was a Bible.
He told Snopes that the people burning the Bible and American flags did not self-identify with any particular group. However, these acts appeared to be political expressions and were not "coincidental objects that people burned in order to make a fire." His eyewitness statement contradicts the Times report.
'The Holy Grail of all dollars'
Was the Bible-burning episode in Portland exaggerated and publicized by the Russians? Was it reported factually by an eyewitness? Or both?