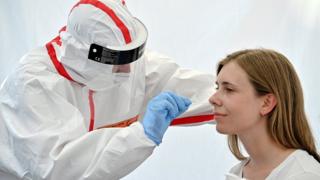 Germany has recorded its biggest daily increase in coronavirus cases in more than three months as European countries struggle to curb a surge in infections.
More than 1,200 cases were reported in Germany in the past 24 hours. Officials said the rise was due, in part, to people returning from holidays.
It came as Germany warned against non-essential trips to parts of Spain.
Meanwhile, France had 2,524 new cases in 24 hours, the highest daily rise since its lockdown was lifted in May.
The German foreign ministry said it had added a partial travel warning to the Spanish capital Madrid and the Basque region on Tuesday amid rising infections there. Warnings were already in place for the regions of Aragon, Catalonia and Navarra.
Germany has recorded more than 9,000 coronavirus-related deaths since the pandemic began.
A 'critical moment' for Spain
Spain is facing the worst coronavirus infection rate in Western Europe. It recorded 1,418 new infections in its latest daily count on Tuesday and said there were 675 "active outbreaks" in the country.
Salvador Macip, an expert in health sciences at Catalonia's Open University, told AFP news agency the country was at a "critical moment".
Click here to read more.
Source: BBC