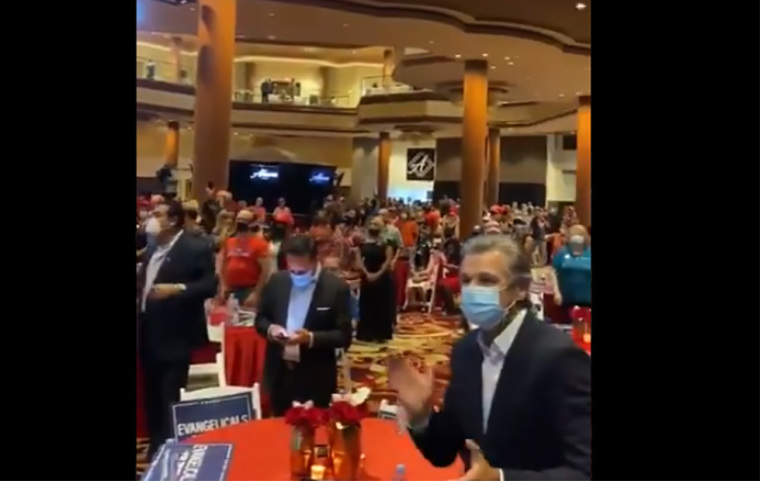 Evangelicals for Trump held a prayer and praise event at a Las Vegas casino Thursday night, circumventing the state's restrictions on church gatherings that are not imposed on casinos. 
More than 500 evangelicals attended the event held at the Ahern Hotel, according to The Las Vegas Review-Journal. The hotel lobby's maximum capacity is 1,600 which allowed the event to follow the 50% capacity rule for hotels and casinos.
Featured speakers at the event included Paula White, head the White House's Faith and Opportunity Initiative, and members of the president's evangelical advisory board, Pastor Jentezen Franklin and Bishop Harry Jackson Jr., along with Pastor Jack Hibbs of Calvary Chapel Chino Hills, California, who reopened his church on Pentecost Sunday.
Ralph Reed, chair of the Faith and Freedom Coalition, shared a video from the event that was retweeted by Vice President Mike Pence. Reed and hundreds of others sang and prayed together before speakers shared why they planned to vote for Trump. In Reed's video, most attendees wore masks but some did not.
"Packed house at #EvangelicalsForTrump prayer & praise event in Las Vegas, Reed tweeted. "NV Governor banned church services but casinos can operate at 50% capacity. So we are praying in a casino."
Nevada Gov. Steve Sisolak has imposed restrictions on faith communities that limit gatherings at houses of worship to 50 people while allowing secular entities like hotels, casinos, and gyms to operate at 50% capacity, with no limit on attendees.
City and state officials objected to the Evangelicals for Trump event, warning that it violated the 50-person gathering rule. The Las Vegas City Council even contacted event organizers in an attempt to cancel it.
Click here to read more.
SOURCE: Christian Post, Blake Fussell