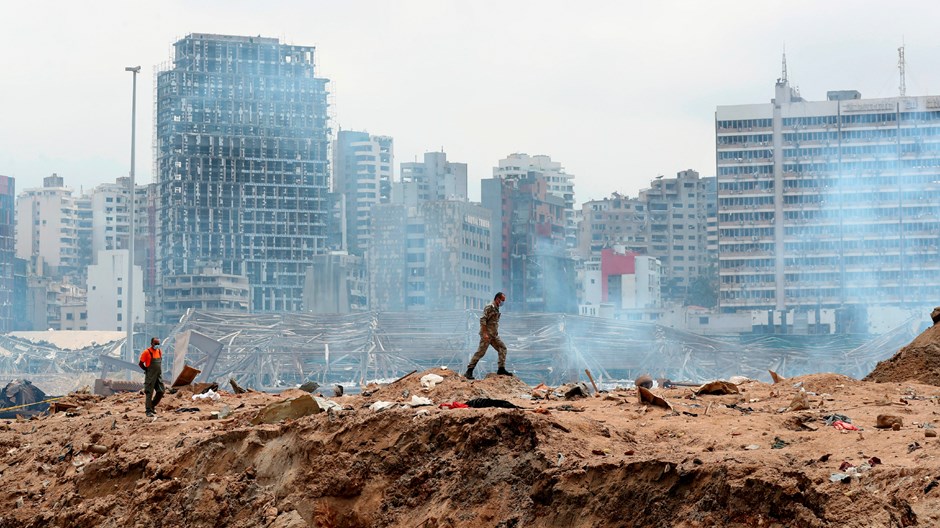 Our family was sitting down to dinner when the walls rumbled.
Assuming it was just an unusual surge of electricity preceding one of Lebanon's frequent power outages, we readied to say our prayers.
And then came the boom, and the whole house shook.
"An earthquake?" I wondered, as we rushed our four children, ages 7 to 13, outside to presumed safety. But there we found neighbors, anxiously skimming through Twitter on their balconies, shouting out the news.
Beirut had just suffered one of the largest non-nuclear explosions in human history.
My nerves for my family's security settled when I learned it was not an earthquake. But then the political nerves took over.
Was it an assassination? An Israeli strike?
Reporting for Christianity Today from Cairo during the Arab Spring, our family had become somewhat accustomed to instability. But that was my realm: attending demonstrations, visiting attacked churches. Yet there was always a sense that life carried on, like the ever-calm waters flowing in the nearby Nile River, where we would often board a felucca boat and float in peace.
Our year in Lebanon has been much different.
Within two weeks of our arrival, Israel and Hezbollah exchanged fire at the border. Tensions rose quickly after a drone crash-landed in the Shiite Muslim suburbs of Beirut.
Within two months of arrival, we were greeted with another popular uprising. By some counts, a quarter of Lebanon's 4 million citizens poured into the streets to demand a change in their political class.
Within half a year of arrival, the currency collapsed. We can escape the rampant inflation better than most, due to foreign income. But like the rest of Lebanese, we couldn't get dollars into the country.
And when you add instability in current events to Lebanon's history of war and famine, worry weighs not just on the reporter, but on the parent.
The Lebanese are very adept at adjusting to crises, and we aimed to learn along with them. But to do so, we all needed to learn the sectarian system.
"That is a picture of President Michel Aoun," I pointed out to our children during an autumn drive through a mountain neighborhood on our way to hike in the shadow of the world-famous cedars. "His position is reserved for the Maronite Christians of Lebanon. Do you remember that monastery we just passed?"
But then after a bend in the road, the banners changed.
"That is Nabih Berri, the leader of the Amal Movement," I said. "He is the speaker of parliament, a position reserved for the Shiites.
"No, they're not the same as Hezbollah, but they are allied. At least they are now. Do you remember what I told you about the civil war?"
A later trip to downtown Beirut brought up Saad Hariri.
"The prime minister position is for Sunni Muslims," I explained. "But he's not prime minister anymore after the uprising. And the man pictured next to him is his father Rafik. He was assassinated 15 years ago.
"There was this car bomb …"
Fast-forward to this week's explosion. I walked my children down the street to overlook Beirut. A cloud of pink smoke rose from the Mediterranean shoreline. We are blessed to live in the mountains, a 30-minute drive from what was once known as the Paris of the Middle East. While 300,000 Beirut residents are now without a home, we can go back inside and eat dinner.
But first we finished our prayers.
I didn't eat much; there was too much to debrief. The children were calm, but they could tell another politics lesson was coming. My third daughter calls it our family podcast.
"We don't know what that explosion was," I told them. "It may have just been an accident. Tonight you will go to bed like the rest of us, not knowing for sure. And that is okay."
Click here to read more.
Source: Christianity Today