Elias is waiting for a German official to evaluate his Christianity.
He converted from Islam in Iran secretly. He was afraid because he knew that other converts had been arrested and beaten, some even killed. He had also heard of converts finding asylum in Germany. He dreamed of going there and being baptized in public. He could worship in the open, start a new life, and join a church, free from the fear of reprisals for his newfound faith.
And so he fled to Germany. When he got there, he applied for asylum. Now, Elias (a pseudonym) waits for the Federal Office for Migration and Refugees (BAMF) to rule on his case. He is far from alone.
Between 20,000 and 40,000 refugees are seeking asylum in Germany on the grounds of religious persecution because of their conversion to Christianity, according to a 2019 Open Doors report. Amid sharp national debates about anti-refugee sentiment, religious literacy, and religious freedom, a number of evangelical leaders have called for changes to the process of officially evaluating refugee conversion.
Currently, the BAMF judges the sincerity of conversion and the severity of potential threats to asylum seekers' lives. There is, however, a lack of explicit standards, clear criteria, or legal precedent for these examinations, and the BAMF grants asylum at significantly different rates in different parts of the country.
"It's like a lottery," said Gottfried Martens, pastor of a Lutheran church associated with the Missouri Synod in the Steglitz neighborhood of Berlin. Martens cares for more than 1,000 baptized Iranian, Afghan, and Pakistani Christians in his church and is currently instructing hundreds more in preparation for baptism.
"If you're in Potsdam, you stand a better chance than in Berlin," he said. "In Berlin, you stand a better chance than in Düsseldorf. In Hessen, you're almost guaranteed protection. It just depends on which person you get."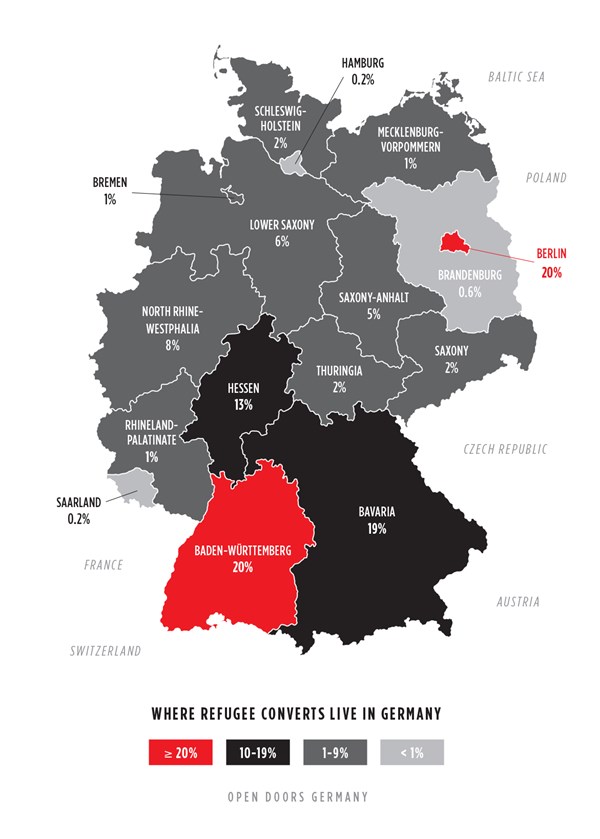 Martens wants the process to be more consistent. He joins the German Evangelical Alliance and Open Doors in calling for a standardization of the examination procedure and more cooperation between the government and religious authorities. The Christian groups are part of a diverse coalition calling for change, including conservative and liberal politicians, the Baha'i community, the International Society for Human Rights, the Konrad Adenauer Foundation, and Ahmadi Muslims (who have been persecuted in Pakistan).
Other countries have also had issues with converts seeking asylum. In the United Kingdom, there were multiple reports in 2016 of asylum seekers "being interrogated on 'Bible trivia' " as part of the application process. More recently, the European Court of Justice condemned Hungary's treatment of asylum seekers. Some migrants have been kept in prisonlike conditions in camps on the border since they were denied religious or political refugee status in 2018. Hungary now has to reconsider those migrants' applications for asylum.
"The issue is of great importance to Germany," said Volker Kauder, a leader of the Christian Democratic Union and an evangelical who was once known as Chancellor Angela Merkel's right-hand man. "Freedom of religion is the litmus test for human rights."
Some evangelicals want pastors to have more of a say in assessing conversions. Markus Rode, head of Open Doors Germany, argues judges may not have the religious literacy necessary to evaluate spiritual transformation.
"The change of belief towards Jesus Christ is a spiritual process. And as such, it can only be assessed by people who have themselves accepted Jesus Christ in faith," Rode said.
Click here to read more.
Source: Christianity Today