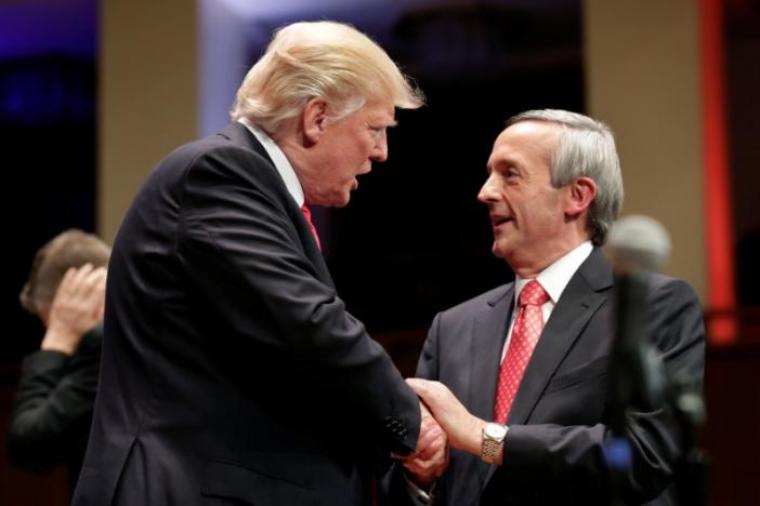 Pastor Robert Jeffress of First Baptist Dallas, staunch supporter of President Donald Trump, said on Friday that only evangelicals who have "sold their soul to the devil" will vote for presumptive Democratic Party presidential nominee Joe Biden in November.
Speaking to Lou Dobbs on Fox Business, the 64-year-old megachurch pastor and frequent Fox News contributor was asked what he thought of the Biden campaign's attempt to appeal to voters of faith in the final days of the election.
Jeffress, who has often engaged with the Trump White House and was a member of Trump's 2016 evangelical advisory council, said that "there's not a snowball's chance … of Joe Biden gaining any significant evangelical vote at all."
"The only evangelicals who are going to vote for Joe Biden are those who have sold their soul to the devil and accepted the Democrats' barbaric position on abortion," Jeffress said. "I mean, it's so barbaric, Joe Biden believes in unrestricted abortion. He can't even get his own church, the Catholic Church, to stomach it. They have denied him communion because of that."
Jeffress cited a recent Pew poll that suggests that "82% evangelicals are gonna vote for President Trump on Nov. 3."
"I think the number's gonna be higher than that," he proclaimed.
The poll found that while 82% of white evangelical Protestant registered voters plan to vote for or are leaning toward voting for Trump, 17% of white evangelical Protestant registered voters said they plan to vote for or will likely vote for Biden.
In the 2016 presidential election, exit polls showed that 80% of white born-again or evangelical Christians voted for Trump. Meanwhile, 16% voted for Democrat nominee Hillary Clinton, a reduction from the 26% of white evangelicals who voted for Barack Obama in 2008 and the 21% who voted for him in 2012.
"We know there is a whole group of evangelicals that didn't tell pollsters they were going to vote for [Trump] in 2016. They didn't want to be badgered or bullied. That's even more so this time," Jeffress said.
Click here to read more.
SOURCE: Christian Post, Anugrah Kumar