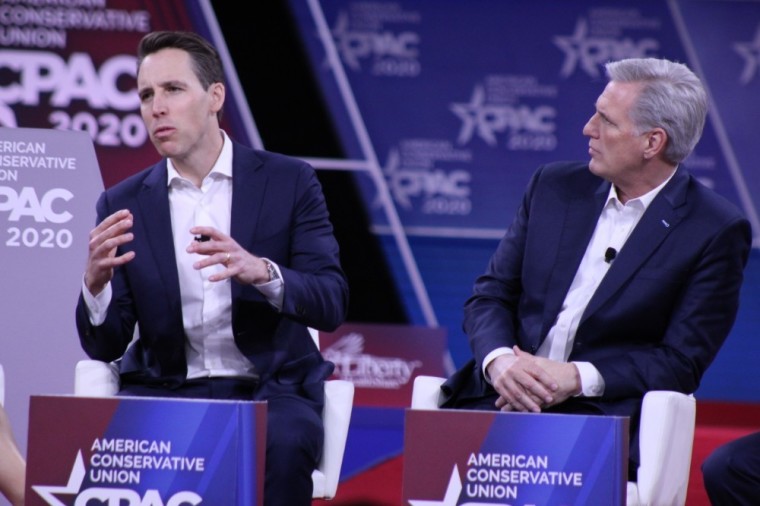 A new bill introduced in the U.S. Senate could impose fines on major American corporations that use Chinese slave labor to make their products as popular brands and celebrities are being called on to take a stand against China's human rights abuses.  
Sen. Josh Hawley, R-Mo., introduced the Slave-Free Business Certification Act, also known as Senate Bill 4241, on Monday.
The bill states that businesses with worldwide gross receipts in excess of $500 million would have to conduct an audit of their supply chains to investigate the "presence or use of forced labor" by their suppliers. This includes the use of forced labor by "direct suppliers, secondary suppliers, and on-site service providers."
Hawley has called out major multinational corporations from clothing companies like Nike to tech giants like Apple as dozens have been tied to forced labor of Uighur Muslims in factories across China. Uighur Muslims have been subjected to mass detention in state-run detention centers in western China that critics contend are essentially concentration camps.
"Corporate America and the celebrities that hawk their products have been playing this game for a long time — talk up corporate social responsibility and social justice at home while making millions of dollars off the slave labor that assembles their products," Hawley said in a statement. "Executives build woke, progressive brands for American consumers, but happily outsource labor to Chinese concentration camps, all just to save a few bucks."
A study by the Australian Strategic Policy Institute released earlier this year found that 83 multinational companies that include Apple, Nike, Adidas, Google, Microsoft and Tommy Hilfiger are "directly or indirectly benefitting" from forced labor by Uighurs in factories across China.
The report suggested that 80,000 Uighurs have been transferred out of the Western Xinjiang province to work in factories across China between 2017 and 2019. This comes as the Chinese government has subjected over an estimated 1 million ethnic minorities in Western China to "re-education" internment camps.
Click here to read more.
SOURCE: Christian Post, Ryan Foley