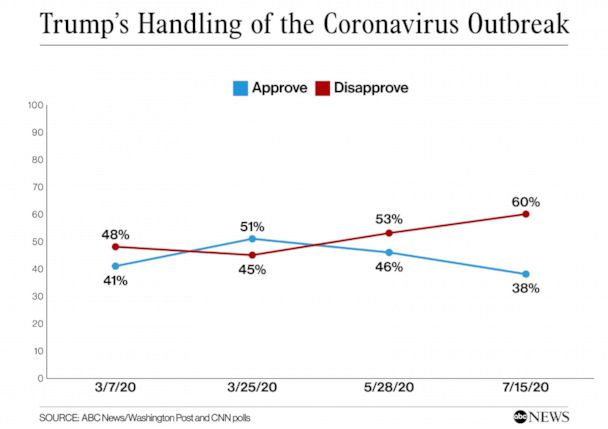 With COVID-19 cases soaring nationally, Americans by nearly a two to one margin distrust what President Donald Trump says about the pandemic, and six in 10 in a new ABC News/Washington Post poll disapprove of how he's handling it, up steeply since the early days of the outbreak.
Just 38% in the national survey now approve of Trump's response, down from 46% in late May and a narrow majority, 51%, in late March, a 13-point drop. Disapproval gained 15% in the same period, to 60%.
Among Trump's challenges is his credibility on the issue in this poll, produced for ABC News by Langer Research Associates. Only 34% of Americans place a great deal or good amount of trust in what he says about COVID-19, while 64% trust him not so much or – in the case of nearly half the public – not at all.
There's also a disconnect in terms of priorities, with Americans, by 63-33%, saying it's more important to control the spread of the virus than to restart the economy, a goal Trump has stressed. That 30-point preference for controlling the spread has widened from 20 points in late May.
Concern about catching the disease, moreover, remains persistently high. Sixty-six percent are very or somewhat worried that they or someone in their immediate family might become infected, and an additional 5% of Americans now say this already has happened.
Masks
In terms of protective action, 79% say they wear a mask all or most of the time when they're around other people outside their home. Fewer, 57%, say they do so all of the time without exception.
Trust in Trump – and political views more broadly – interact with this behavior. Among people who generally trust what the president says on the issue, 41% say they always wear a mask around other people. That jumps to 66% among those who generally don't trust him.
In strictly partisan terms, 38% of Republicans and those who lean Republican report always wearing a mask when they're near others outside their home; this nearly doubles, to 70%, among Democrats and Democratic-leaning independents.
Among other factors, always wearing a mask also is associated with ideology (it's 71% among liberals while 38% among very conservative adults); age (42% among 18- to 29-year-olds vs. 61% among those 30 and older); and race (about 20 points lower among whites than among Black or Hispanic people). It's also 20 points lower in rural areas compared with cities.
Most strikingly, wearing a mask is associated with worry about becoming infected. Always wearing one ranges from 81% among people who are very worried about catching the virus to 22% among those who aren't worried at all. That suggests that the barrier to mask wearing – widely urged by public health officials – isn't a lack of confidence that they work, but the level of public doubt that the situation is threatening enough to warrant it.
Source: ABC