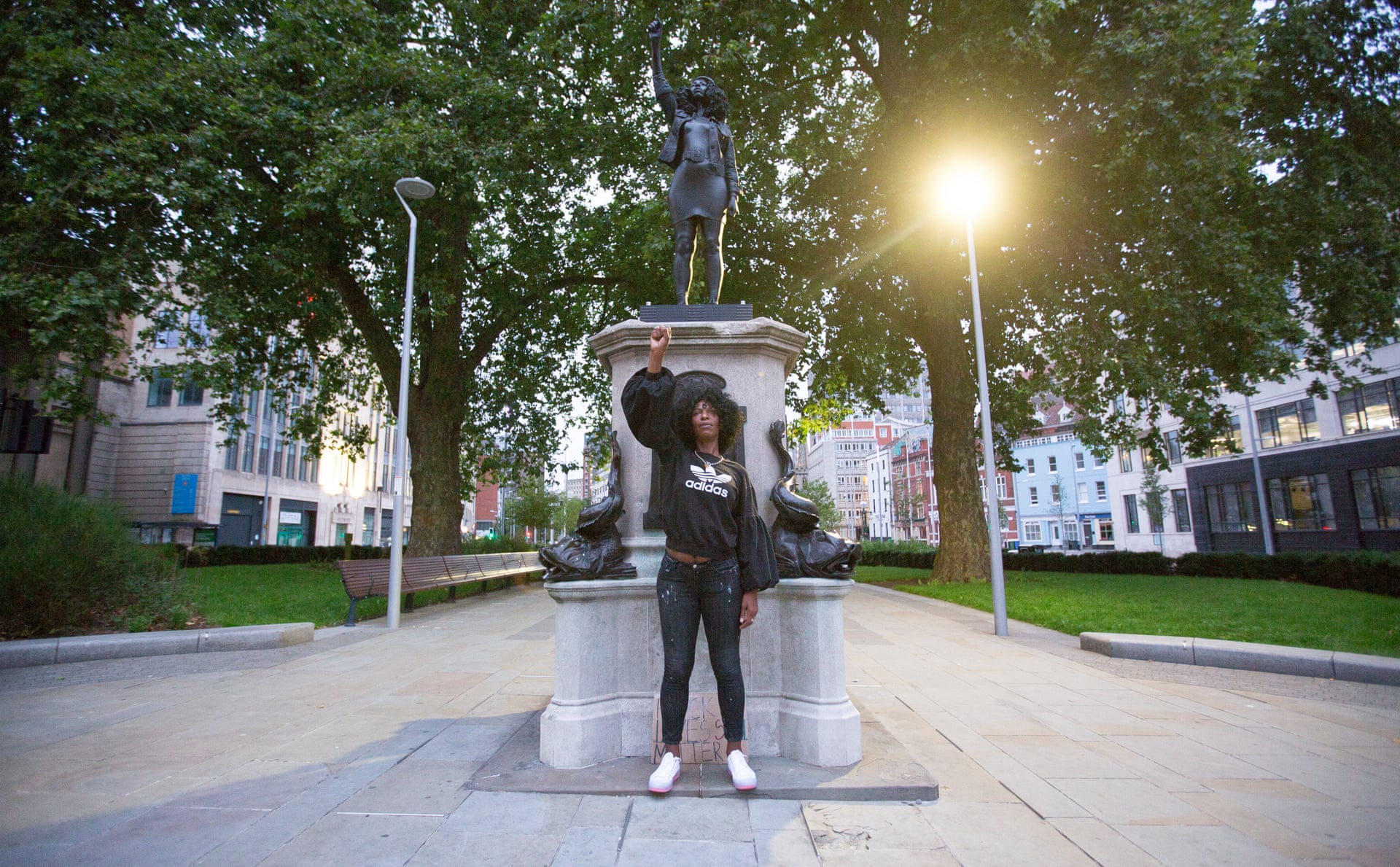 The statue of slave trader Edward Colston was replaced in Bristol on Wednesday morning – with a sculpture of one of the protesters whose anger brought him down.
The figure of Jen Reid, who was photographed standing on the plinth with her fist raised after the 17th-century merchant was toppled by Black Lives Matter demonstrators last month, was erected at dawn by a team directed by the artist Marc Quinn.
The ambush sculpture is likely to reignite the debate over public statuary in the UK that began with the toppling of the Colston figure five weeks ago. On Wednesday morning police said they had had no complaints and it was "a matter for Bristol city council".
Marvin Rees, the city's mayor, issued a statement saying that "the future of the plinth and what is installed on it must be decided by the people of Bristol". He said the sculpture was "the work and decision of a London-based artist," and added: "It was not requested and permission was not given for it to be installed."
But he stopped short of saying that the council would act to remove it.
Arriving in two lorries before 5am, a team of 10 people worked quickly to install the figure of Reid, who said she had been secretly working with Quinn on the idea for weeks. It came as a complete surprise to the authorities, who are yet to announce their plans for the location.
A cardboard placard reading "black lives still matter" was placed at the bottom of the plinth.
Shortly after the vehicles drove away, Reid stood in front of the statue with her fist in the air. "It's just incredible," she said. "That's pretty fucking ballsy, that it is."
After meticulous planning to ensure the statue could be erected quickly enough to have it in place before officials arrived, the vehicles left the scene about 15 minutes after they got there. "I just knew it was going to happen," said Reid. "They were so efficient."
The most powerful moment of the morning, she said later, was "watching children stand next to it and raising their fists. Black children and white children, together."
Click here to read more.
SOURCE: The Guardian, Archie Bland