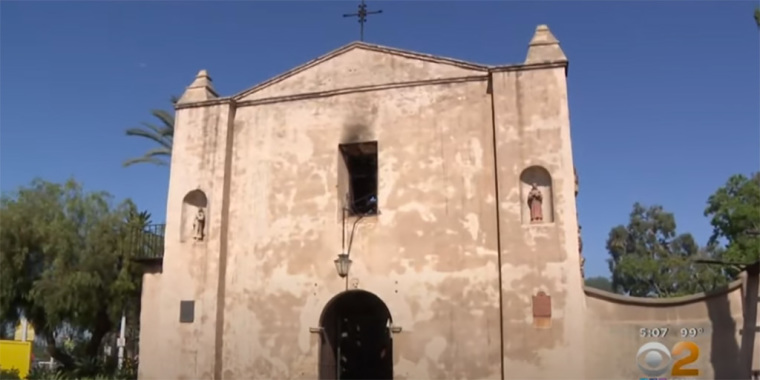 Several Catholic churches and statues paying homage to one of the most revered figures in Christianity became the targets of violence and vandalism over the weekend. Two Catholic churches were set on fire while statues of the Virgin Mary in major cities across the U.S. were defaced.
The wave of vandalism began early Friday morning in the New York City borough of Queens, where a vandal targeted a statue of the Virgin Mary located at Cathedral Prep School and Seminary.
Security camera footage captured an individual defacing the statue by spray-painting the word "IDOL" down the front in black paint, Catholic News Agency reports.
Father James Kuroly, rector and president of Cathedral Prep, described the vandalism as "an act of hatred" while praising the community for "the help we have received as well as the prayers."
"This tragedy saddens us deeply but it also renews our hope and faith in the Lord, as He has shown His goodness in the many people who have reached out to us," Kuroly told CNA.
Less than 48 hours after the incident in Queens, a statue of Mary outside St. Peter's Catholic Church in Boston, Massachusetts, was set on fire. The perpetrator set fire to the plastic flowers in the statue's hand, which caused damage to the statue's upper body.
As he said a prayer next to the statue on Sunday, Rev. John Currie, the pastor of St. Peter's, reached out to the person responsible for the damage.
"I know Our Lady in Heaven is looking down at the soul, or whoever it might have been, and saying, 'I love you.' If you need help, come get help. We're here for you," Currie said, the Boston Herald reported.
Early Saturday morning, worshipers gathered inside Queen of Peace Catholic Church in Ocala, Florida, faced imminent risk to their lives when 24-year-old Steven Anthony Shields slammed his minivan into the church's front doors and poured gasoline in the foyer before setting it on fire.
Click here to read more.
SOURCE: Christian Post, Ryan Foley