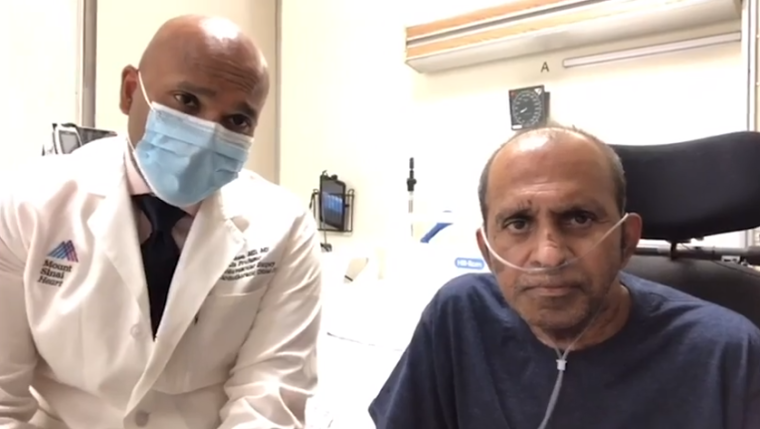 As the new coronavirus was still ravaging victims at The Mount Sinai Hospital on April 19, Dr. Robin Varghese was worried there was nothing he could do to help then comatose Queens Pastor Benjamin Thomas recover from the virus.
"I was on call that night and he was in the worst shape and many of our team members who were rooting for him were also losing hope as was I," said Varghese in a video shared by Mount Sinai with The Christian Post.
Only weeks earlier in late March, Thomas had been busy doing God's work with his congregation at The Queens Church of God.
He and his congregation had been engaged in an annual 21-day fast for revival. People were only just beginning to understand the real threat of the virus and social distancing was still fairly new. Nevertheless, said Thomas, his church felt the weight of the moment enough to start praying for healthcare workers too.
Then some time near the end of March, Thomas told CP he developed a fever that refused to go away.
"I took Tylenol, Motrin, the temperature was not going down," recalled the preacher, who is in his 50s. He said he has been preaching for more than 30 years and had never been out sick from his job until then.
On March 23, he went to an urgent care facility and he was told they were not accepting patients with a fever "or anything." He was eventually accepted by a health facility a few miles away and they gave him the dreaded news.
"They checked for COVID-19. I was positive. They told me I cannot go home," he said from his East Meadow home.
He was then taken to Plainview Hospital where he was given antibiotics but they could not admit him because "there was no room in the hospital."
Thomas said he was told if his condition got worse at home, he should call 911 and he would be sent back to the hospital. After taking the antibiotics and staying home, his fever didn't go away. He also started experiencing shortness of breath. Four days later, on March 27, his frantic wife dialed 911. He was rushed to Nassau University Medical Center alone. His wife could not accompany him due to COVID-19 restrictions.
What happened over the next several weeks, the pastor said, he only recalls from other people's memories.
"I walked into the ambulance. That's all I remember," he said.
Thomas said when he got to the medical center he was placed on a ventilator.
"They told me I said 'put me on the ventilator,' which I don't remember. I was there for almost two weeks. They were trying to transfer me to Mount Sinai under Dr. Varghese. My family reached out to him. 'Can you help us?'"
At this point, his church had started a prayer chain for him that went global.
Click here to read more.
SOURCE: Christian Post, Leonardo Blair