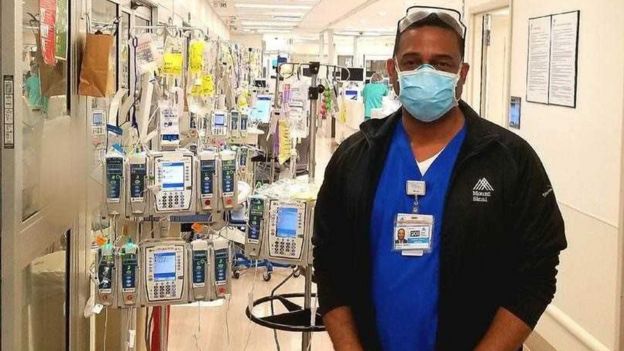 From FaceTiming worried families to helping doctors and nurses with "combat fatigue", spiritual care workers in hospitals have been thrust onto the pandemic's frontlines.
Rocky Walker has come closer to death as a hospital chaplain in the coronavirus pandemic than he did as a soldier in the 1991 Gulf War.
"It was very scary, very dangerous," he says. "Working in the ICUs and seeing all that suffering and seeing families being decimated by this thing: I didn't see that in combat, I saw it first hand here."
In America's present-day reckoning with death, spiritual care workers have been thrust onto the frontlines in new ways. And they have played a crucial role in making sure that patients isolated by the contagion of the coronavirus do not die alone.
Walker's job as a chaplain for heart patients at New York's Mount Sinai hospital changed dramatically when the city was engulfed by the pandemic in April.
The military veteran was overwhelmed by a deluge of new patients, strangers about whom he knew nothing and who were not able to communicate.
At Hebrew Rehabilitation Center in Boston, Hali Diecidue faced a different challenge.
Click here to read more.
SOURCE: BBC News, Barbara Plett Usher