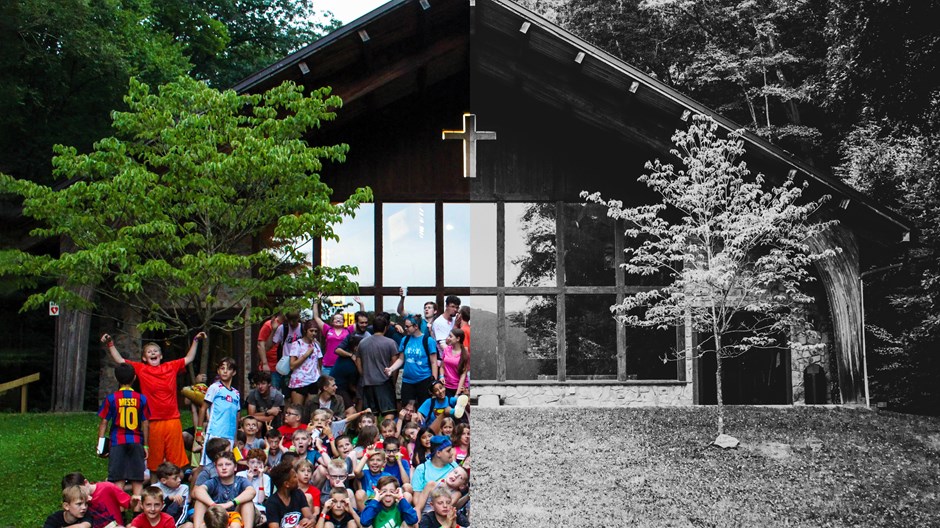 Megan Fowler is a contributing writer for Christianity Today.
---
The sounds of Christian camp are the soundtrack of my summers. Joyful shouts from the athletic fields echo across the valley in the afternoons, and voices lifted in praise roll from the chapel at dusk.
Each year, my family moves to the grounds of the 250-acre camp in rural northwestern Pennsylvania, where my husband serves as executive director. During the off-season, we long for camp and pray for the rowdy campers and staff members who will trek down the gravel lane the next summer.
Camp can be a peaceful place. But this year, many camps are eerily quiet. The ones that are open are emptier than usual. Staffers wave instead of smacking high-fives. The smells of disinfectant and hand sanitizer overpower the familiar cedar cabin scent. "Let's go wash our hands!" is a common refrain. Like so many things in the age of coronavirus, camp is not the same.
When the pandemic shut down schools and businesses back in the spring, Seneca Hills Bible Camp and Retreat Center, where my husband works, became a food distribution site for kids to get free meals on the weekends. Other Christian sites, like Camp Cho-Yeh outside Houston, offered their cabins to health care workers who needed to isolate from their families while treating COVID-19 patients. Crescent Lake Bible Camp in Rhinelander, Wisconsin, was among the locations that replaced spring break camps with childcare programs for frontline workers.
Like most businesses and ministries across the country, Christian camps felt the economic halt right away. Church retreats and events were called off in March, April, and May due to bans on mass gatherings across the states. Before long, camps were forced to grapple with the unimaginable: no summer camp.
By May's end, more than 100 Christian camps had announced cancellations. Most of the rest made dramatic changes to summer programming. Summer camp can represent half of a camp's annual revenue or more, so skipping it for a year comes as a massive financial blow.
Dan Busby, president emeritus of the Evangelical Council for Financial Accountability, predicted camps and conferences would be among the ministry sectors hit hardest by the shutdowns because of their seasonality. Camps owned by a single church or regional church body can barely hold on from month to month.
In March, Vanderkamp Center, an ecumenical campsite in upstate New York, announced it would be shutting down for good after 55 years of ministry, citing faltering finances and the COVID-19 pandemic. LifeWay Christian Resources canceled 311 camps and events scheduled for this summer. It announced plans to sell the Southern Baptist Convention's Ridgecrest Conference Center in North Carolina, which called off its traditional two-week camp sessions and postponed the rest of its programming (like sessions for families).
Industry experts predict that summer 2020 is only the beginning, and the coronavirus crisis is going to hamper enrollment for years to come. With families unable to afford the cost or afraid to send their kids into close quarters where viruses can spread quickly, Christian camps aren't just asking whether they can survive one year with no camp or fewer campers—they're looking at perhaps two or three years below the capacity they're used to.
Camp after quarantine
Camp directors and staff will tell you it's not the financial pressure but the campers themselves who inspire them to keep camp going somehow. They see camp as a crucial place to train the next generation of Christian leaders—a gospel-infused, community-centered environment away from screens and school pressures.
Camp staff know firsthand that the concentrated fellowship time in the cabins and on the grounds stands to bear gospel fruit in young believers.
"After COVID-19, we will see a groundswell of support for this distinctive ministry," said Gregg Hunter, president of the Christian Camp and Conference Association (CCCA). "People will be hungry for a new experience, and I believe their souls will need feeding."
Experts agree.
"We have to be prepared that there will be long-term impacts on the psyches of these young people," said Jacob Sorenson, a researcher and consultant specializing in Christian summer camps. "They need places of healing when this is done, and camp can be one of those places."
But the pandemic isn't over, and this year, many camps decided to do the unthinkable. They called off summer offerings, some for the first time ever. Others opted to transfer activities to the virtual realm they'd otherwise encourage campers to escape.
The future of Christian camps may depend on how ministries respond to this crisis. Camps stake everything on trust. Many of the CCCA's 870 members built their reputations on growing the faith of young campers over decades of ministry, establishing relationships with churches, and serving families across multiple generations.