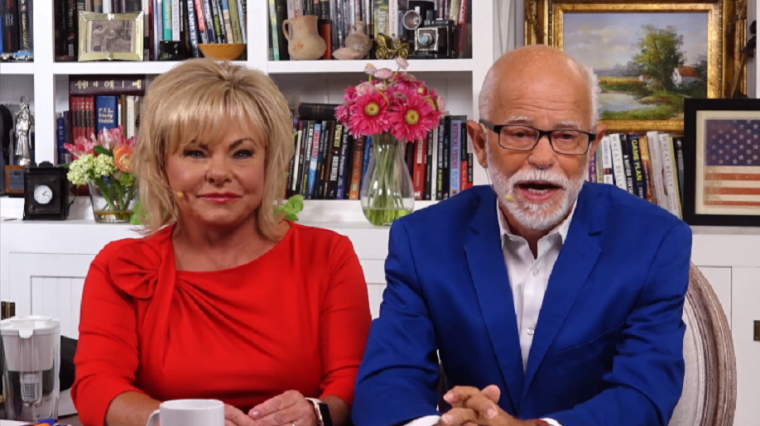 After suffering a stroke in May that was initially described as "minor," televangelist Jim Bakker revealed Wednesday that he's struggling with memory loss and could be away from "The Jim Bakker Show" for months as he recuperates while fighting to keep the troubled show on air.
"It's so good to be back. I didn't know if I'd ever be back," he said during an appearance on the show broadcast from his home in the Ozark Mountains Wednesday with his wife and co-host, Lori Bakker, at his side.
"I want you to know that what I've been through, I'm not through yet. I'm not through the valley. I don't know if I'll be back on the air for a few months. But I had a stroke, how long ago now?" he said, asking his wife who noted, "a couple months ago now."
"And I have been in recuperation, resting. I sleep all the time actually, but the doctors want me to rest. And I'm doing exercise. I'm doing," he continued before his wife chimed in again to help his memory, noting that he was cycling and swimming and doing speech therapy.
"It's a little different. It's been an amazing time to have your life interrupted in a moment's time. It was suddenly, here at this house, because we were doing the shows here. And I had the stroke late in the day," he said.
After a few minutes of his gently guided speech by his wife and other co-hosts, the televangelist, who turned 80 in January, explained that he was struggling with his memory but doctors believe he can make a full recovery.
"We wrote out a little opening from me to read mainly because I don't always remember everything, but the doctors tell me that I can recover totally," he said.
Click here to read more.
SOURCE: Christian Post, Leonardo Blair