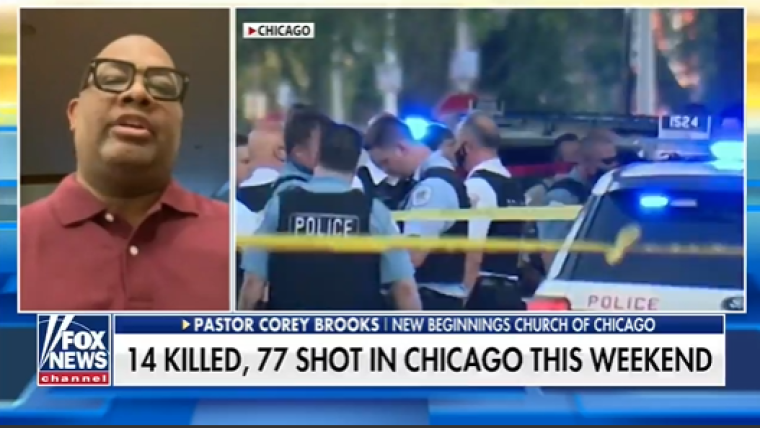 A Chicago pastor is decrying the violence in the Midwestern city following the shooting death of a 7-year-old girl and the deaths of 14 others who were killed over the holiday weekend.
Corey Brooks, who founded New Beginnings Church on South King Drive in Chicago, said in a Monday "Fox & Friends" interview that the violence has to be stopped and something must be done immediately as dozens of people are being shot at every weekend in Chicago.
"We cannot continue to go down this road," said Brooks, who also serves as the executive director of Project HOOD (Helping Others Obtain Destiny), a nonprofit that seeks to end violence and build communities.
Brooks explained in the interview that the city is beset by many young men who are illegal gun owners.
"Not only are they illegal gun owners, but they are shooting at each other," he continued. "They're causing havoc in our community and they are causing a lot of destruction. And, unfortunately, as a result of their destruction, children are being shot. Innocent bystanders are being shot."
Seventy-nine people were shot and 15 were killed over the July 4th weekend in the Windy City, according to Chicago Sun-Times Sunday.
Among the 15 killed is 7-year-old Natalia Wallace, who succumbed to her injuries after she was reportedly shot while playing outside her grandmother's home in the South Austin neighborhood on Saturday.
A suspect, 33-year-old Reginald Merrill, was charged late Monday with the one count of first-degree murder and one count of felony aggravated battery involving the discharge of a firearm, according to CBS Chicago.
"It hurts me that my youngest daughter is no longer here, that I would not be able to talk to her, hold her, tell her anything, bedtime stories, anything," Nathan Wallace, Natalia's father, said during a news conference on Sunday.
Click here to read more.
SOURCE: Christian Post, Brandon Showalter