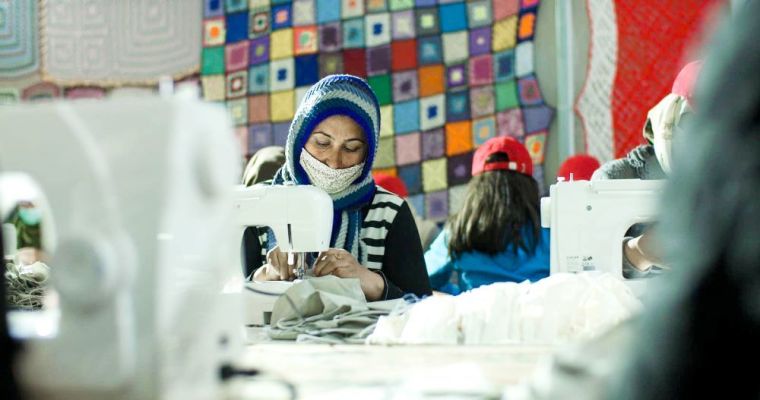 Refugees in the largest refugee camp in Europe have made thousands of cotton face masks, some of which are being distributed at evangelical churches in the United States, as a way to give back to people in the West and help them battle the coronavirus. 
Refugees fleeing violence and persecution from across the Middle East and Northern Africa, who are now sheltered in the Moria refugee camp on the Greek island of Lesbos, have been busy in recent months making face masks during the coronavirus pandemic as part of an effort funded by two international nongovernmental organizations.
The efforts initially began as a way to create face masks for the refugees themselves and mitigate the spread of COVID-19 in the extremely overcrowded camp that shelters over 15,000 people despite having an official capacity of about 2,000 people. Many people living at the camp are waiting for their asylum claims to process and are living in horrendous conditions.
"The refugees began making masks for themselves to try to help with the mitigation efforts. Once they finished, they asked to continue making the masks and send them elsewhere to help," Pastor Robbie McAlister, who works with the National Immigration Forum and the Evangelical Immigration Table, told The Christian Post. "This is giving them an opportunity to have a purpose."
McAlister said that these are "refugees who have nothing" that "are giving back to people that have come and serve them with whatever they can."
"It's just a beautiful story of what I would call reciprocal love and care for one another."
The mask-making effort is sponsored by the nonprofit organizations When We Band Together and Team Humanity, both of which have provided the infrastructure and materials needed to make tens of thousands of masks. From McAlister's understanding, there are between 150 to 200 refugee volunteers that have produced masks.
According to WWBT, the volunteers are working with Team Humanity, which established a mask-making center next to the refugee camp.
So far, the masks, which are 100% cotton, double-layered and washable, have been sent throughout Europe and the U.S.
McAlister, a consultant who has encouraged churches throughout South Carolina to serve in Moria, received about 2,000 of the face masks. So far, he has distributed them to seven churches in South Carolina, most of which have sent teams to Moria in the past.
Click here to read more.
SOURCE: Christian Post, Samuel Smith